A Teamup Calendar administrator link is the key to the "control center" of your calendar. The default administrator link is named "Administrator" when a new calendar is created. It is shown in the top right of your calendar:

Access to an administrator link means the ability to do the following via calendar Settings:
"Design" your Teamup Calendar to work best for your needs
Control the access permissions for what users can do with this calendar
Delete any sub-calendars or the entire calendar
Change access levels for any user through link permissions or notifications
Export partial or entire calendar data to external files
Be sure to use these abilities properly to maximize the positive impact of Teamup on your group. Carefully consider DOs and DON'Ts with an administrator link as discussed below.
WHAT IS A TEAMUP CALENDAR ADMINISTRATOR LINK?
You will have seen a screen like this when you first created your Teamup Calendar with us: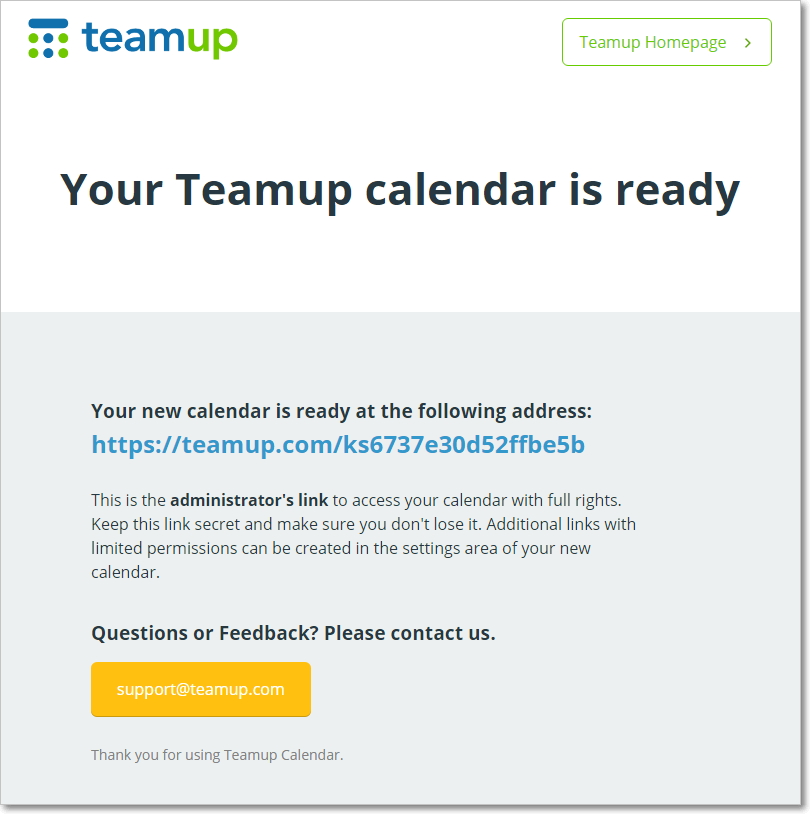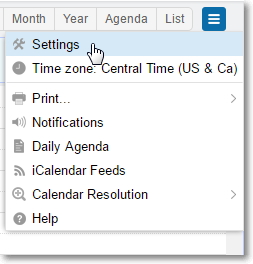 The administrator link will also have been sent to you via email.  It can be renamed or new links with the administrator rights (only if really necessary) can be created through an administrator link in Settings. To determine if a link has the administrator rights, click the blue menu icon in the top right: It is if you see Settings on the top of the dropdown list; it is not if you do not see Settings.
Take note that there is no log on as such with a Teamup Calendar. All that you need to access your calendar is your calendar link – there are no user accounts.
WHEN TO USE THE ADMINISTRATOR LINK
The calendar Settings can only be accessed when viewing your calendar with the administrator link. It is within Settings that you can create further links for others to use to access the calendar. Using the calendar administrator link is the only way to set up passwords for calendar links. See how to manage calendar links.
Setting up sub calendars, switching on notifications and iCalendar feeds, enabling views and customizing the calendar header are some of the other things that can be done in Settings. When viewing your calendar with the administrator link, all sub calendars and events are visible and all actions on events are permitted.
See the Getting Started Guide for calendar administrators for more information.
WHEN NOT TO USE IT
An administrator link gives you access to the 'control center' of your calendar.  It is therefore important to only use the calendar administrator link when necessary. This allows you to keep control of your calendar data and settings.
We recommend limiting the administrator access to yourself and any additional users who really need to have access to the 'control center' of the calendar. In most cases you should only need one administrator link per calendar.
If you need a user to have the full capability to manage events, including adding new events, updating or deleting existing events, share a link with the Modifier permission with that user. You can  share the pre-configured 'Modifier' link in Settings > Sharing. Or create your own customized links for others to access your calendar with. Learn more about permissions and how to share.
Be careful not to use it when publishing your calendar on Facebook or embedding your calendar into your web site. It would be a serious risk to your calendar content should you allow the public to access the Settings and all events.
Do not use it to set up notifications for others. The notification email contains a link back to the calendar with the access level it was subscribed from. If you subscribe an another person's email address for notifications when viewing the calendar from the administrator link, then that person will receive emails with an administrator link back to the calendar in them.
In other words, you would give the non-administrator users access to the administrator link, which is not desirable behaviour. If you do need to subscribe to notifications for non-administrator users, make sure you view the calendar using their calendar link and then subscribe their email address to receive notifications.
Ideally each individual calendar user should set up their own notifications from their own calendar link to ensure the correct permissions are adhered to in the notification emails.
Do not use it to get the iCalendar feed .ics link for others as the feeds contain links back to the calendar with the same access rights as they was subscribed from.
So again, users should view the calendar using their own calendar link and then go to the iCalendar feed list and copy the appropriate .ics URL.
WHAT HAPPENS IF YOU MISPLACE IT?
Should you lose your administrator link, you can use our Calendar Link Recovery Tool to retrieve it.
If you did not enter your email address upon creation of your calendar (before this became a mandatory field), it is a good idea to do this now. Enter it in the Settings > General Settings > Administrator's email field. Do not worry, we will not use your email address for any other purpose. We only send occasional newsletters and will never spam you.
WHEN YOUR ADMINISTRATOR LINK IS COMPROMISED
If you suspect your calendar administrator link has gotten into the wrong hands, you can create another administrator link and delete the original. Do this in Settings > Sharing from the new admin link. Read how to do this in this article on managing calendar links.
RELATED: What You Need to Know About Your Administrator Link
Keywords: logon, login