The Settings on a Teamup Calendar are the "control center" for the calendar. They are available when using Teamup in a browser (not in the Teamup mobile apps). To protect calendar security, the Settings are only accessible to authorized calendar administrators.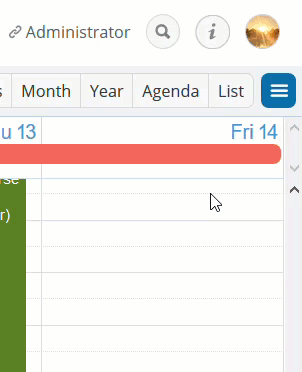 Other users can be granted calendar access at varying permission levels, from Read-only to full Modify permission, but will not be able to access the Settings.
To access the Settings, open your Teamup calendar:
Then choose Settings from the blue menu in the top right of the calendar, or
Click the Add / Edit link beneath the list of sub-calendars, or
Type /settings to the end of your calendar link in the browser URL bar.
The calendar settings
The Settings menu includes the following options: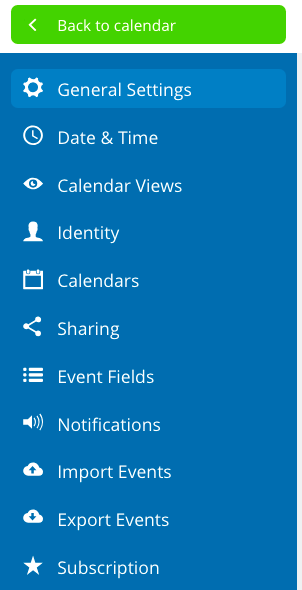 General Settings
Set calendar language, toggle certain features on or off, and set various defaults; you can delete the entire calendar if desired.
Date & Time
Set the time zone, date format, and other time and date options.
Calendar Views
Set the default calendar view, the calendar resolution, toggle certain calendar views on or off, and set other calendar view options.
Identity
Set the calendar title and customize the header.
Calendars
Create, organize, and manage sub-calendars as well as iCalendar feeds.
Sharing
Create, delete, modify, and manage calendar links.
Event Fields
Manage or modify built-in event fields including signups and comments, and create custom event field(s).
Notifications
Create and manage all notification subscriptions (email, Daily Agenda, and Slack).
Import Events
Import event data from other calendars or calendar services, via iCal or csv format.
Export Events
 Export event data from your Teamup Calendar via iCal or csv format.
Subscription
Manage your Teamup subscription and see your subscription history.
Settings on Teamup apps
Important note: the full calendar Settings are not available on the Teamup mobile apps.
On the Teamup mobile apps, there is a Dashboard to view the calendar links you have added, and a Settings menu. The Settings menu on the mobile apps allows you to adjust the time zone, toggle the option to Display empty days, or Remove calendar from the app. These settings only affect the display or availability of a calendar on the mobile app.