With Teamup Calendar, you can grant calendar access to others via user accounts and groups, or via shareable calendar links with customized access permissions. This article discusses how a calendar administrator can create and manage shareable calendar links.
---
How calendar links work
Shareable links give you a way to grant calendar access without requiring a user account or login.
You can use calendar links to provide temporary access to a calendar, to create a secure version of your calendar to embed in a website, or to share your calendar with a group.
Shareable calendar links are composed of random strings of numbers and letters. You can deactivate, modify, or delete a calendar link at anytime. You can also enable password protection for any shareable link (a paid subscription level is required for this feature).
It's easy to create new links, modify or delete links, or edit link permissions. You can do all of this without creating a new calendar.
Note: Working with shareable calendar links requires administrator access and is only possible in a web browser; the calendar settings are not available in Teamup mobile apps. If needed, you can open your Teamup Calendar in a mobile browser to access the Settings on a mobile device. See the instructions for iOS or Android.
Access permissions for calendar links
We recommend creating a unique calendar link for each use.
That might be for an individual or group, or for an instance of embedding your calendar. If you create separate links for each purpose, and name them appropriately, it is easy to remember what the links are used for, to deactivate or modify them as needed, and to keep your calendar secure at all times.
For each shareable calendar link, you can choose which sub-calendars to include, and set the level of access permission for the link. Teamup includes 9 levels of access permissions. If you include all sub-calendars in a calendar link, you can set one level of access permission for all. Or you can set a different access permission for each included sub-calendar.
Add new calendar links
Click on the blue menu icon in the top right of the main calendar page and select Settings.
In Settings, select the Sharing section on the left.
Click on Create Link to create a new calendar link.
Give the new shareable calendar link a name. We recommend being very specific when naming a shareable link, so it's easy to identify and remember what the calendar link is being used for, and by whom.
In the Calendars Shared section, use the drop-down box to select All calendars or Selected calendars:

If you choose All calendars, the shareable link will allow access to all sub-calendars. You'll set one permission which will apply globally to all the calendars.
If you choose Selected calendars, you can then choose individually whether to include or not include each sub-calendar. You will set the permission for each sub-calendar separately.
Once you have selected the calendar(s) and permission(s), click on Save. A new shareable link will be automatically generated and will be listed with all shareable links, users, and groups in Settings > Sharing. Shareable links are indicated by the green link icon. 

Delete existing links
Go to Settings > Sharing.
Click on the edit icon next to the link you want to delete.
Choose Delete from the button group on the Edit Link screen. On the next screen, confirm to delete the link permanently.
After you delete a shareable link, you will be returned to the list of calendar links. If the link you just deleted was in use by people who still need to access the calendar, you can add a new link as described above and share the new link with them.
Edit link permissions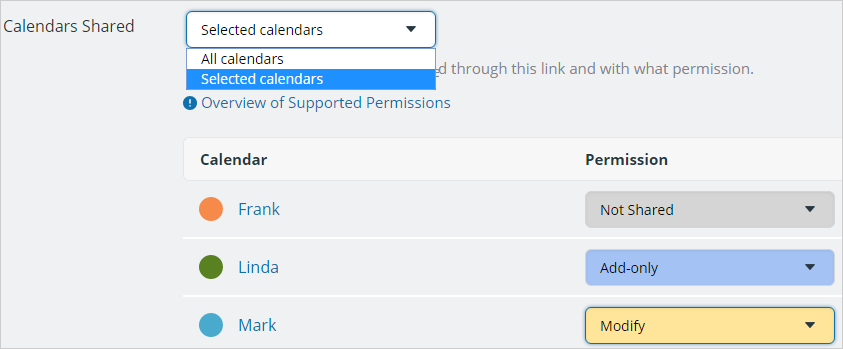 Go to Settings > Sharing. Click on the edit icon next to the link that you wish to modify.
On the Edit Link screen, scroll to the Calendars Shared section. Choose to share All calendars or Selected calendars, as shown above.
Choose the appropriate permission for All calendars or set an appropriate permission for each of the selected sub-calendars.  Learn more about sharing only selected calendars.
Delete a link with administrator access
If you created your Teamup calendar prior to September 2020, you may have administrator access via a link, without associating the administrator access with a user account.
We highly recommend using account-based administrator access only. Here's how.
Once you have granted administrator access to the appropriate person via their user account, you can delete or deactivate the link with administration permission.
Prevent unwanted access
There are two ways to stop unwanted parties from viewing your calendar via shareable links:
Delete the links that have been shared or exposed to them. If those links were used by others who still need access, you can create new calendar links to replace the compromised ones.
Enable password protection on links. This is possible with the Plus and Premium plans. Existing users of the links would then need the password to access the calendar. This prevents the need to delete links and can be a good solution if one member of a group no longer needs calendar access, but you do not want to replace the link for an entire group.
Managing your calendar links can be done any time. All event data and other settings in your calendar remain unchanged.