Teamup provides several unique calendar views. Currently supported are nine different views: Day, multi-day, week, multi-week, month, year, list, agenda and scheduler view.
The video below demonstrates the available calendar views except the year view, and how to filter events on display by hiding or showing relevant sub-calendars.
Note the year view was not shown in the video as it was released after the video was made.  Scroll down to see an example of the year view.
Configuration of Calendar Views
Calendar views are highly configurable. The following configuration options are available in Settings -> Calendar Views of your calendar:
Hide / shows views: Not every use case needs all nine views. To make is easy for your users, we recommend to hide calendar views that are not needed for your use case.
Default view: This is the view initially shown when the calendar is started.
Hide weekends: If your planning is concerned with works days only, it is recommended to hide weekend days to optimize the use of the available screen space.
Calendar grid resolution: If your are scheduling mostly short appointments, it may be helpful to increase the calendar grid resolution.
Some calendar views support specific configuration options. See Settings -> Calendar Views for details.
Link Parameters
Some aspects of your calendar views can be configured through link parameters.
Examples
Depending on your use case and how you set up Teamup for your needs, your calendar views can be unique like no others.  Here are a few examples of Teamup Calendar in action:
1. Multi-Week View
Multi-week view is configurable to show between 2 and 12 weeks. The example below shows a 2-week view of an operations calendar at a construction company. It provides ample space to display many jobs every day: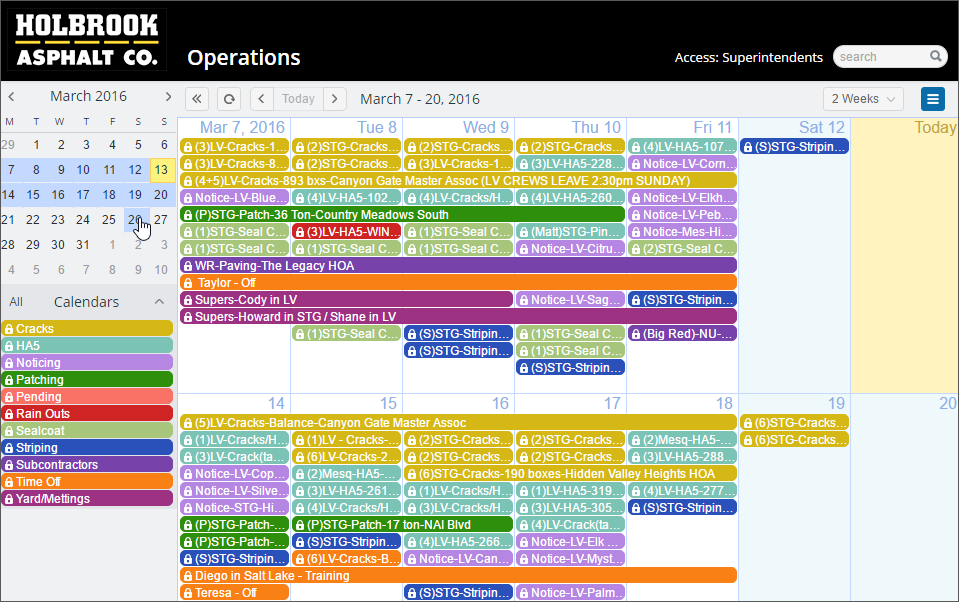 Two-week view
2. Scheduler View
Scheduler View displays events associated with each resource (a sub-calendar) in its own column and makes it easy to see the availability of each resource throughout the day.
3. List And Agenda Views
List and agenda view are unique in that they displays the event details and images right in the calendar view.  You do not need to click an event to see the details as you would do in most other calendar applications.  With a single click, you can show or hide  all the details of all events on your screen.
This view scales well vertically regardless of how many overlapping events you may have on display.  This also makes it very easy to save your calendar data in your preferred time range (from one day up to one year at a time) to a .pdf file for local reference or backup.
4. Year View
Year view works well if you are planning long-term and the number of events per day are small.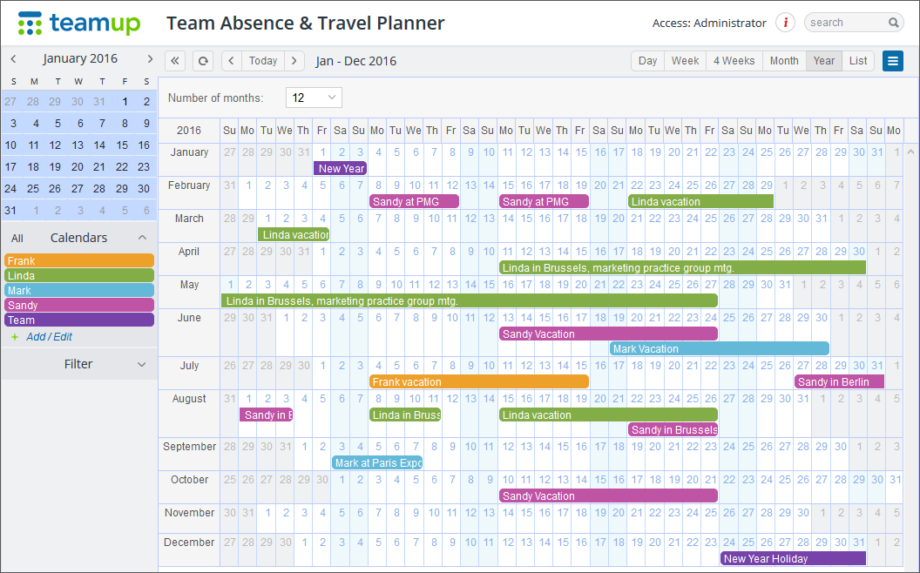 Year view
RELATED: Looking at the Big Picture with the Year and Multi-Month View in Teamup