The Timeline view (browser only) shows each calendar in its own row, with an adjustable date range and zoom levels. 
To learn about other calendar views, see this article.
---
Calendars shown in rows with timeline view
The timeline view shows each calendar in its own row. Rows are stacked according to the order of calendars. You can adjust the date range and zoom level. And, as with any calendar view, you can show or hide sub-calendars as needed. 
The flexibility of timeline view helps create a better user experience for busy calendars, project timelines, apppointment or space reservations, work phases, and more. It's also a great way to tune the calendar view and get the most helpful insights for your use. Check out a collection of versatile looks of the timeline view.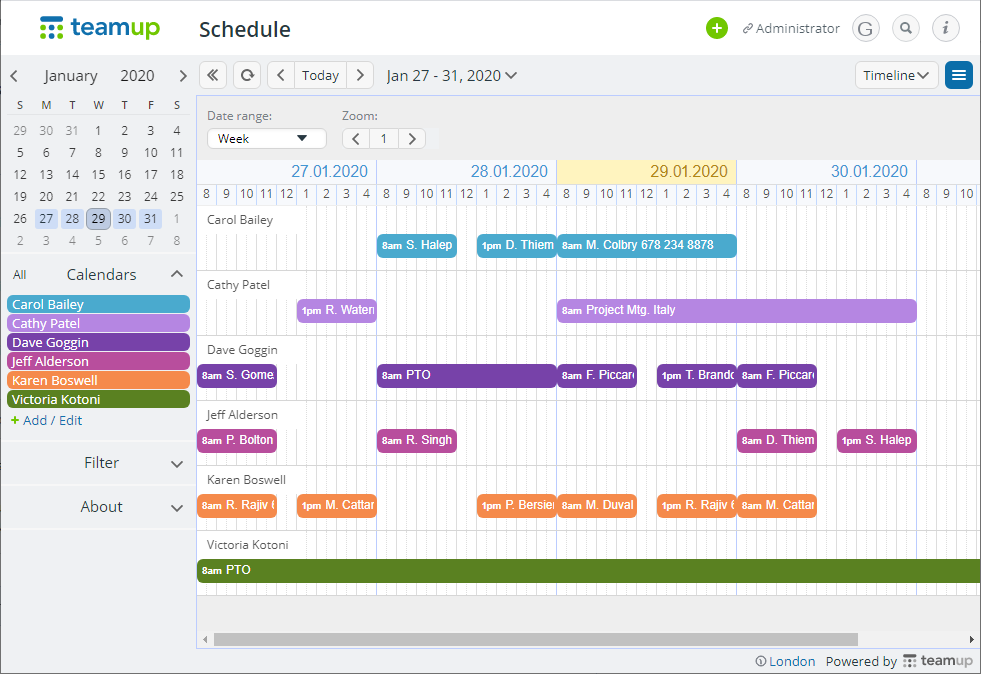 The Timeline calendar view is unique:
each sub-calendar in its own row.
each hour has its own column, OR
each day has its own column (in Multi Week mode).
it can show a single day, multiple days, a week, or multiple weeks.
the days or weeks are displayed horizontally.
the zoom level can be adjusted.
Adjust date range and zoom level
Date range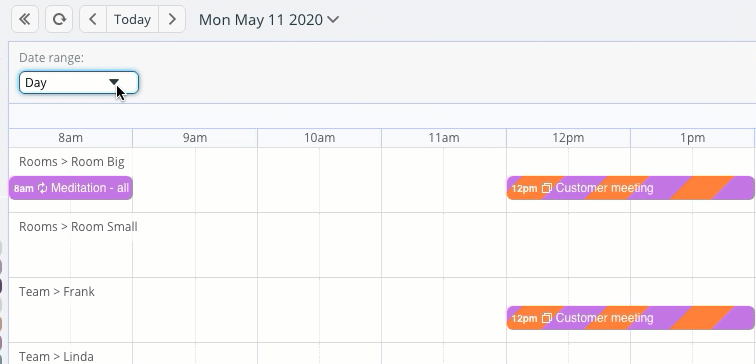 To adjust the date range:
Click the arrow under Date range.
Choose from Day, Multi Day, Week, or Multi Week.
For Multi Day or Multi Week, choose the number of days (1 – 21) or weeks (up to 30) to display.
Zoom level
To adjust the zoom level:
Click the + or – button on either side of the Zoom option.
Clicking the + button to zoom in gives each column more space, so you can see more details.  
Clicking the – button to zoom out gives each column less space, so you can more events. 
As you add days or weeks, or increase the zoom level, some of the timeline may move out of your screen area. When this happens, simply scroll horizontally to see the full Timeline view.
Show or hide sub-calendars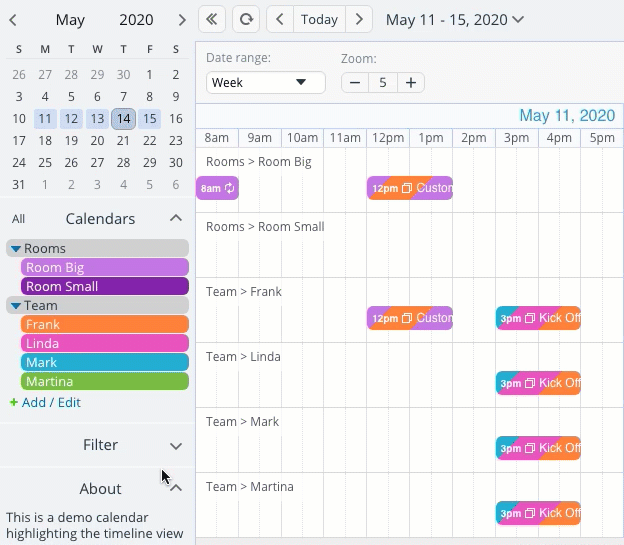 As with any Teamup calendar view, you can select which sub-calendars to show or hide in the Timeline view:
Use the Eye icon to select only that folder or calendar.
Click the title bar to add or remove a sub-calendar without affecting others.
Collapse a folder to hide its calendars.
Click All at the top of the calendar list to show all calendars again.
Try out Timeline calendar view today: choose it from the View Selector in the top right of your calendar.