Scheduler view (browser only) is a unique calendar view which shows each sub-calendar in its own column. Seeing the events from each calendar side-by-side is a great way to compare schedules and availability. To learn about other calendar views, see this article.
Scheduler view: side-by-side calendar events
Scheduling people, facilities or booking rooms and items are typical tasks when working in a group context.
It is often helpful to view bookings or schedules side by side in these scenarios. For example, you might want to compare bookings for a shared space, employee shifts, or scheduled events and meetings for staff.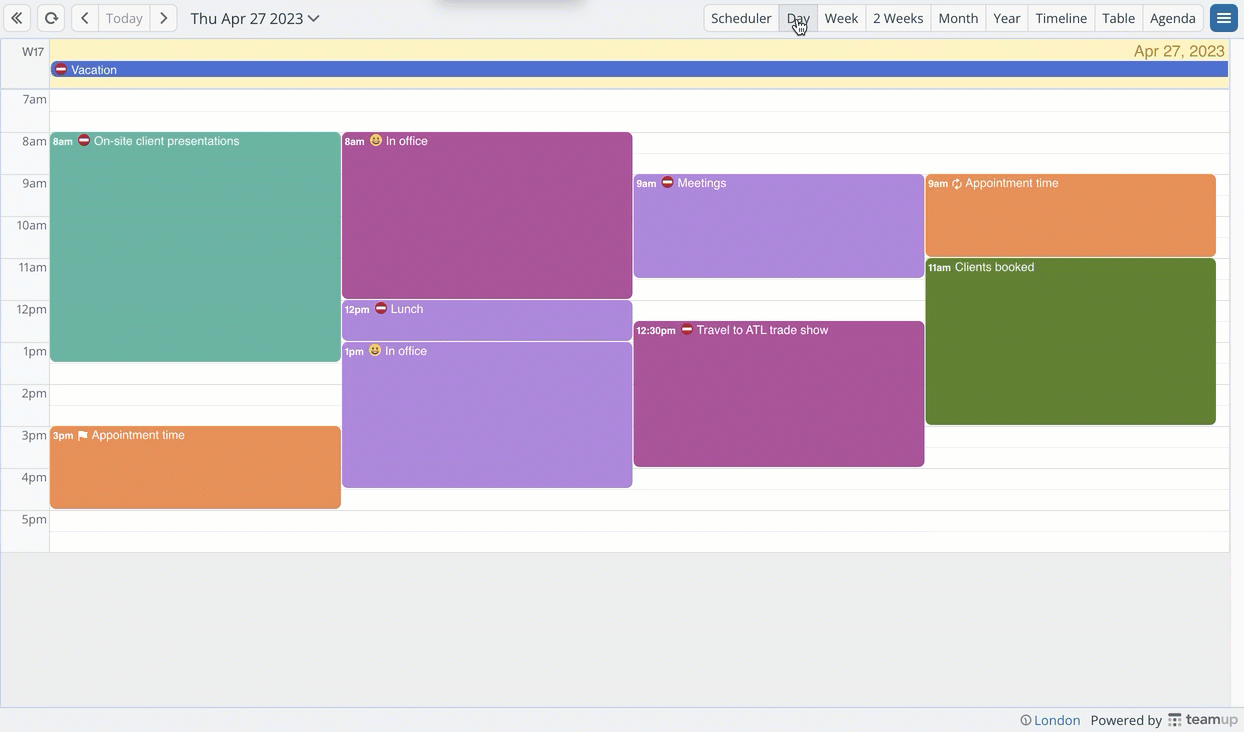 Scheduler view makes it easy. Each calendar is shown in its own column. You can see events from multiple calendars next to each other. Toggle calendars on or off from view to view only the relevant events.  
Live Demo: Try the Scheduler View Now!
How to use scheduler view

Choose Scheduler from the view selector.
Use the arrows or date picker as needed to adjust the visible date(s).
Adjust the Resolution and Date range. 
Note: If you don't see Scheduler as an option in the view selector, ask your calendar admin to enable this view in settings (details below). 
Resolution and date range
Click the − or + to adjust the resolution from 5 minutes to 1 year. As you change the resolution, the date range options will adjust. 
Choose from Single Day, Multi Day, Weeks, Months, or Years.
If you do not see one of these date range options, adjust the resolution.  
As you adjust the date range, you can set the number of days, weeks, etc.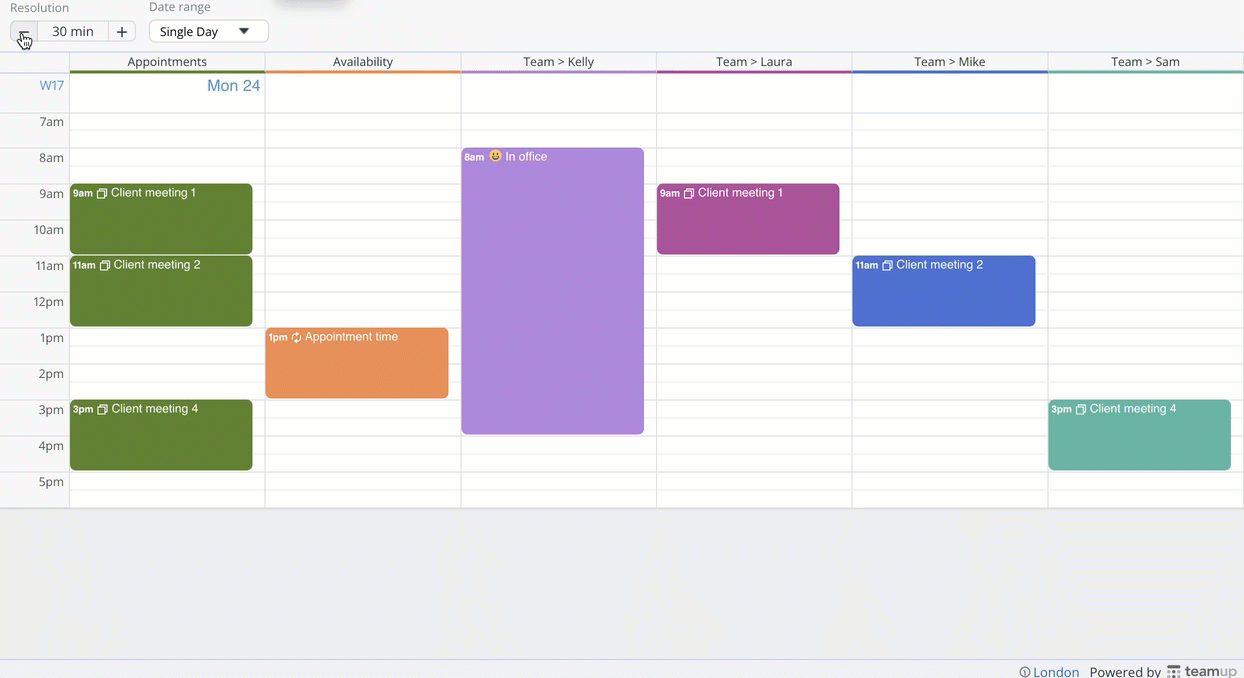 One day only
Prior versions of the scheduler view displayed only one day's events at a time. You can still use scheduler view this way by selecting Single Day from the Date Range and leaving the resolution at 5 minutes to 1 hour. When viewing a single day in scheduler, all day events will show above the time grid.
Hide empty columns
Check the box to automatically hide columns (sub-calendars) which do not have any events displayed in the visible time period.
You can also hide or show selected calendars regardless of displayed events: click on the calendar title to show or hide that particular calendar.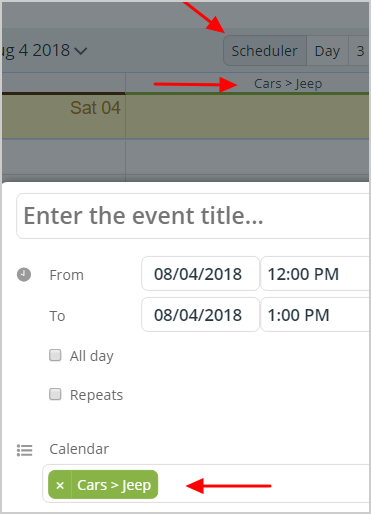 Enter new events
In scheduler view, click on any column, or click and drag, to create an event. 
The event editor will default to the calendar represented by the column you click in.
Move or copy events between columns
Scheduler view simplifies the process of copying or moving events.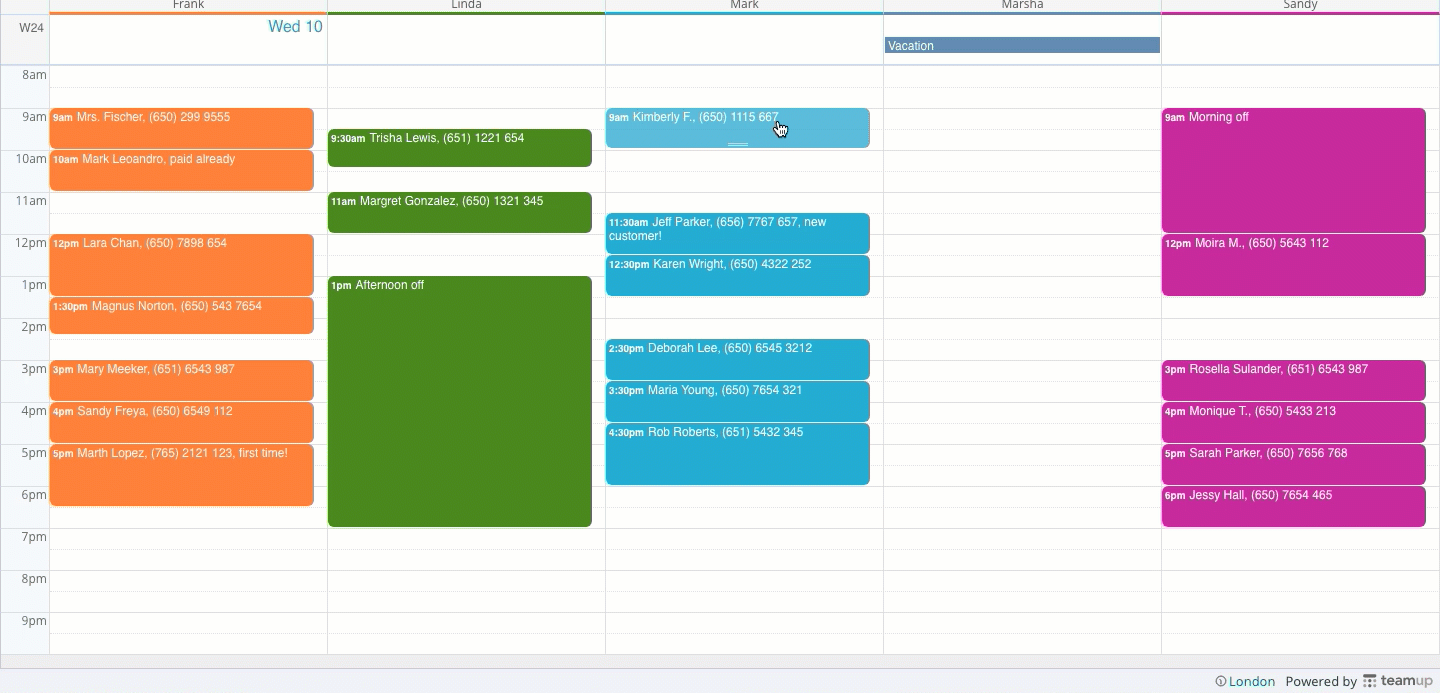 Move an event: Drag an event from column A to column B, and the event will be automatically moved to the Column B calendar. 
Copy an event: Use CTRL + drag to copy an event from column A to column B and the copied version of the event will be automatically assigned to Calendar B.
With other calendar views, the same actions would only result in the time change; the associated calendar would need to be manually changed if necessary.
Try it out with a live demo
If multiple people are participating in one event, you can display only the participants' calendars in the scheduler view. Then, create an event in one of the participant calendars. Ctrl-drag-and-drop the entry into the columns of the other participants, resulting in an identical entry for each participant, without further editing needed. Test it out with a live demo in scheduler view.
Enable and configure scheduler view
Calendar administrators can enable the scheduler view in Settings > Calendar Views. Once enabled, scheduler view will be an option in the view selector. These views are available to all current users.
You can also adjust the default settings for scheduler view, as shown below.

Users can adjust the settings while using the calendar in scheduler view (i.e., change the date range, number of days, and zoom level). The calendar will reset to defaults when a new browser session is started.