If you find your events are 'disappearing', or are not showing up after you add them, here are some things to check:
Hidden sub calendars. It is possible that you may have inadvertently hidden the relevant sub calendar. You can show and hide events belonging to sub calendars by clicking on the sub calendar name on the left hand side as this article demonstrates.
Refresh your calendar. If others have access to your calendar, click on the refresh button at the top of your calendar to see any possible changes:

Clear your browser's cache. Sometimes this is necessary when a new version of Teamup Calendar is released. Or when your cache becomes too large.
Date range. Are you displaying the appropriate date range when viewing your calendar?
In the day, week, month and multi week views, use the arrows in the top left of your calendar to scroll between dates:
In the List and Agenda views, check that you have the correct date range selected:

Link permission. Please check that when viewing your calendar you are using a calendar link that has permission to view to sub calendar where the events are. If you are not certain, please check your link with your calendar administrator.
Space. If the last row in a cell is cut off, click the double arrow in the top right of your view to expand the grid rows: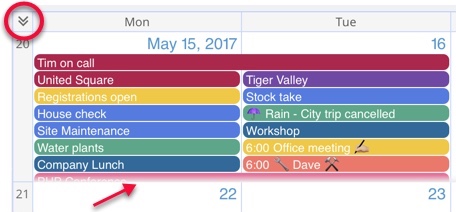 Correct calendar. This may seem obvious but sometimes more than one Teamup Calendar is created without users being aware of it. Be sure to check that all who access the calendar are viewing one and the same calendar.
Mobile apps. If you are using either of Teamup Calendar's mobile apps, then swipe or tap to see the left side panel. There you will see the list of sub calendars. Make sure all are selected for display. Tap the sub calendar name to toggle its visibility on or off. Tap the eye icon in the top right to show/hide all sub calendars
Data history. Team Calendar stores events that have occurred already for a limited amount of time. On the free plan, past events that are older than one year are deleted on a rolling basis. So in other words, events that occurred more than a year ago will not show up on your calendar. The paid plans allow for a longer history – 5 and 10 years respectively. This means that with one of these plans, you can navigate back to 4 years from today for example and you will still see your events listed there.
If you are using the calendar for free and would like to gain access to data that is from over one year ago, you can upgrade at any time and you will then see your older data.
Search results. Check that you are not inadvertently viewing the search results.

Click on close return to the complete view of your calendar events.
Keyword filter. Make sure you have not applied a keyword filter to your current view. Click on 'Clear' underneath the filter section in your left hand Control Panel.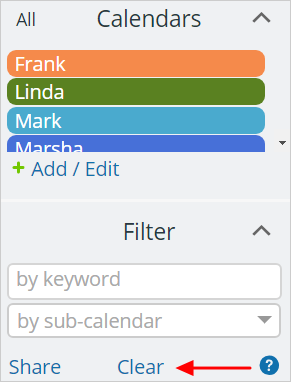 If none of these help, and you find you are still missing events then please send us your calendar link and further details. If possible, include a screen shot of the Add Event window for the event you are trying to add, or a screen shot of your calendar and point out where the events are missing.