Do you have too many events on display and are wondering how you can see a specific event or all events of a specific type? Teamup has introduced a new filtering capability that allows you to filter events by keywords and by sub-calendars. The picture below demonstrates how to filter all vacation plans on a team calendar to see the vacations planned by the employees in the next four weeks.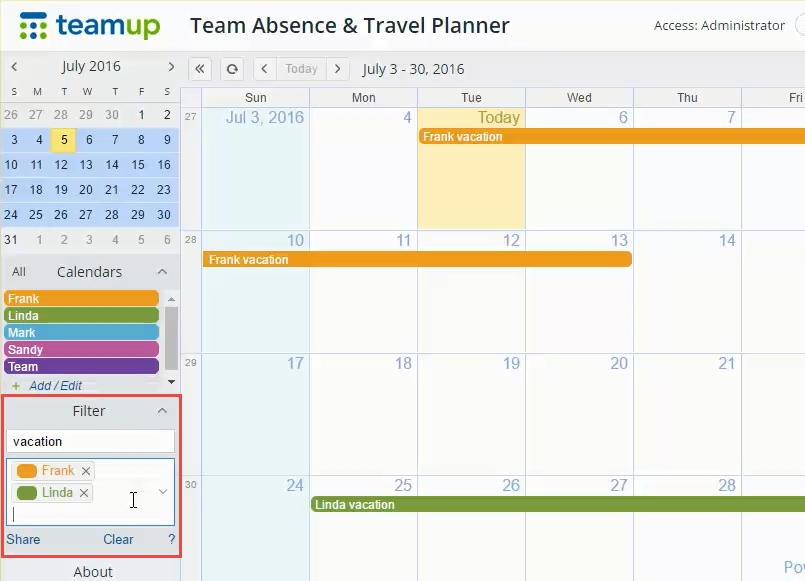 FILTER BY KEYWORDS
An important fact to remember is that this filter applies only to the events on your screen. It does not filter all events in your calendar. Take an example where you'd like to know how many of your team members have approved vacation plans during the next 4 weeks. First, alter your display to show 4 weeks worth of events. Do this by switching to the multi-week view (set to 4 weeks in settings) or append ?view=mw4 to your calendar URL. Then enter 'vacation' in the keyword filter.
When multiple keywords are entered- the OR logic is applied, not the AND logic. So the results are expanding rather than narrowing.
FILTER BY SUB-CALENDAR
In the same way as the keyword filter, the sub-calendar filter that appears below the keyword filter, applies only to the on-screen events. In the example above, you may like to see all the vacations that only Frank and Linda have planned for the next 4 weeks: Simply choose Frank and Linda from the drop-down arrow.
SHARE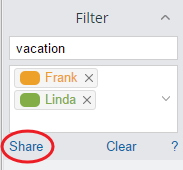 Click on share beneath the filter fields to open up your calendar in a new tab or window with the filters applied.
The new calendar link will look something like this:
https://teamup.com/kse838b22604cd12ce?view=MW&filterby=2348410%2C2348411&keywords=vacation
You can then bookmark that calendar link, or share it with others should you wish to see the filter applied on a regular basis.
See filtered examples linked from the lower left panel on this demo calendar.  Note that the examples also use the link parameter for title to define a unique title for each filtered and shared link.
Keywords: filter, keywords