Currently Teamup Calendar does not support automated email invitations or RSVP functionality. These features will be added in a future version. This article discusses how any calendar user can use the built-in sharing options, event signup feature, and event pages.
---
Built-in sharing options
On a browser
To share individual events from your calendar on a browser, use the Share menu on any individual event.
The Share menu is accessible via:
the right-click context menu of the event on any calendar view
the event details (click an event to view the event details)
buttons on the event page
By default, the sharing options allows these options:
More: How to Share Events and Customize Sharing Options
On Teamup mobile apps
You can now share individual events with built-in sharing options on the Teamup mobile apps. This makes communicating and planning even easier than before.
Here are the event sharing options on the Teamup mobile apps:
To access the event sharing options on the mobile app, open your calendar in the app as usual. Then tap an event to open the event details. You will see the sharing icon in the menu bar, in the top right.
More: Sharing Events on Teamup Mobile Apps
Event signups
With Teamup Calendar, you can add signups to any event. If signups are enabled, anyone with access to the calendar event can sign up with their name and email address. The event organizer(s) can easily see who has signed up.
You can configure these options when using event signups:
Signup deadline: the default setting is the time and date of the event itself.
Max number of signups permitted: when the maximum is reached, additional attempts to sign up will not be permitted. If you do not wish to set a maximum number, you can toggle this option off.
Who can see the signup list: all users, or users with modify permission. If you make the signup list visible to all users, email addresses are automatically masked to protect privacy.
More: how to use event signups on a browser
More: how to use event signups on Teamup mobile apps
Event pages
You can easily invite people to events by sharing an event as a web page. You can then email, message, or share the event page on social media.
Attendees can open the event page and add the event to their personal calendar. Whenever they access the event page, they will always see the latest info.
Here is how an event shared as a page might look: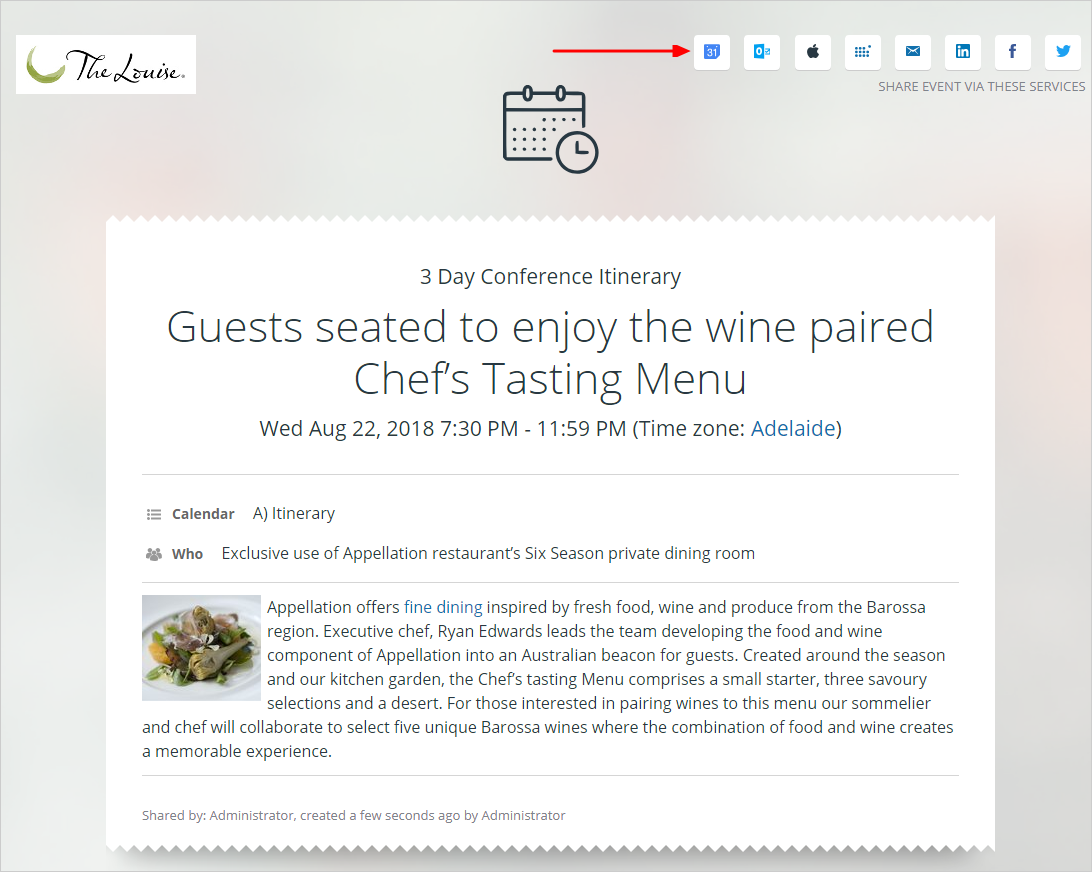 More: how to share an event page from a browser.
More: how to share an event page from Teamup mobile apps.
Blog post: How to Create and Share a Free Event Page
Keywords: rsvp, invite, request, accept, reject, ignore, attendees, participant