With Teamup Calendar, you can add signups to any event. Teamup mobile apps for both iOS and Android include the event signups feature, as well. You can enable and configure signup for an event right from your mobile device.
To learn how to use event signup in the web browser, see this article.
How to use event signup on Teamup mobile apps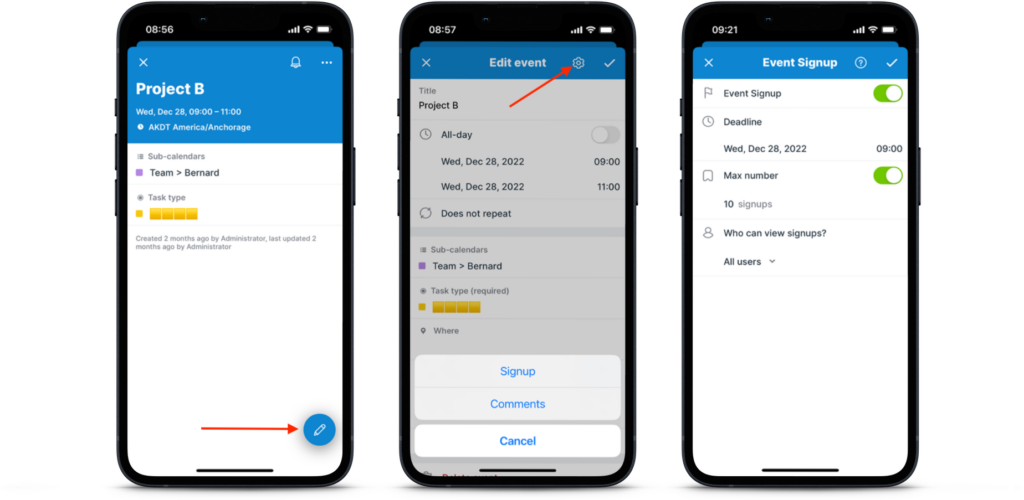 Open the event.
Tap the Edit button in the bottom right.
Tap the gear icon to access event options, and select Signup.
Toggle on Event Signup.
Set the options as desired.
Options for event signups
You can configure these options when using event signups:
Signup deadline: the default setting is the time and date of the event itself.
Max number of signups permitted: when the maximum is reached, additional attempts to sign up will not be permitted. If you do not wish to set a maximum number, you can toggle this option off.
Who can see the signup list: all users, or users with modify permission. If you make the signup list visible to all users, email addresses are automatically masked to protect privacy.
Signing up for an event
Once signup is enabled by the event organizer, a signup button will appear in the event viewer. A signup flag will appear on the event title when in List view as long as signups are open: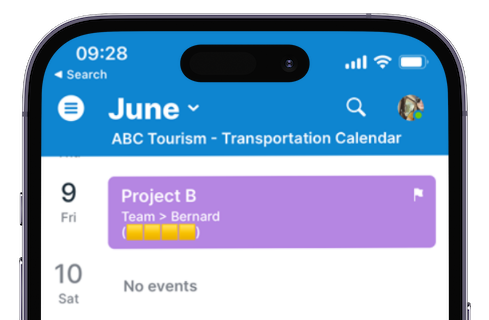 Any potential participants can sign up by clicking the button. They will be prompted to enter a name and email address.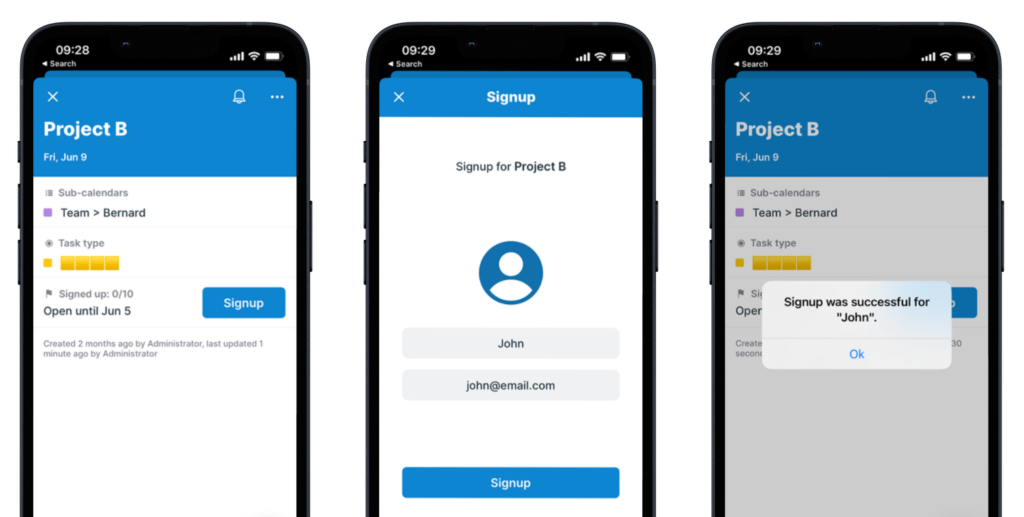 Viewing the participant list
The number to the right of the signup button shows the number of participants. The event organizer (and anyone with modify access) can see both the name and the email address of a participant:
Tap the number to see the participant list.
Tap the three dots next to any participant to see details and manage the signup.
If the organizer has made it possible for all users to see the participant list, they will only see the names of participants. Email address will be automatically hidden.
Learn more:
Keywords: RSVP for an event, signup people for event