Any event on a Teamup Calendar can be displayed as a stand-alone webpage. This event page can then be shared on social media with a click of a button.
1. DISPLAY YOUR EVENT PAGE
You can get to an event page by clicking on the 'Share' button while viewing an event. Or by right-clicking on an event in your main calendar view and selecting 'Share', then select 'As page'.  Learn more here.
Each event page has its own page URL which looks like this:
https://teamup.com/event/show/id/zAwQpJjEDt1QST8RXBBFVJkMm5ypTV
2. SHARE ON SOCIAL MEDIA
Notice the buttons in the top right corner on your event page:

The left ones are for you to save this event to your personal calendar. On the right are the social media buttons. Anyone viewing this page may click the button to share the event on Facebook or Twitter. Here is an example of how the event linked above looks like when you click the Facebook button:
Share on Facebook
Please note: Images may not show up initially on your post preview if the picture is being shown on Facebook for the first time. Please reload the preview window until the picture appears.
Once your event has been posted, viewers of the post can click on it to open the Teamup event page for complete information and further sharing. Try it out yourself by clicking on the link above.
You have the option to share events to your own timeline or to a page that you manage. Of course, you may also simply post the event page URL directly to a timeline anywhere on Facebook, as long as you follow the guidelines of where you post.
Share on Twitter
Click the Twitter button on your event page, the post draft window pops up – edit as you like before tweeting: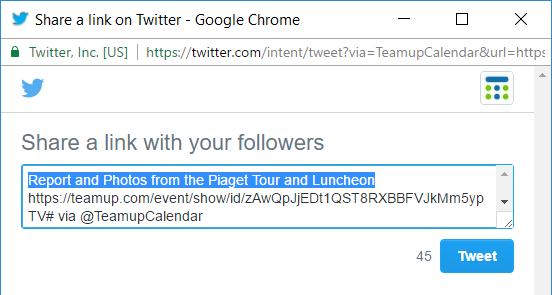 SHARE YOUR EVENTS FAR AND WIDE
If you have an event and would like to share it with your community or with the public, it's easy to include the details and to spice it up with nice images, then display the event independently.  This can be done easily by sharing it as an web page without it being linked to your calendar.
You may have noticed that the example above was a post-event report of the actual event.  Although sharing pictures from events on social media is straightforward these days, Teamup events allow you to have one place to hold all the event details together. This can be helpful for future reference. It's possible to place links to photos posted on Facebook (right-click the time stamp of a post and select "Copy link address") and elsewhere into your Teamup event details. So event notes, meeting minutes, event photos and event comments can all be displayed in a great layout on one web page.
With Teamup, sharing events far and wide just got a little easier!