You can insert an image by linking to it or by uploading an image to the event.
How to insert images
Description field
Select the Description field in the event editor. This opens the full toolbar; then you can choose the best option for inserting your image.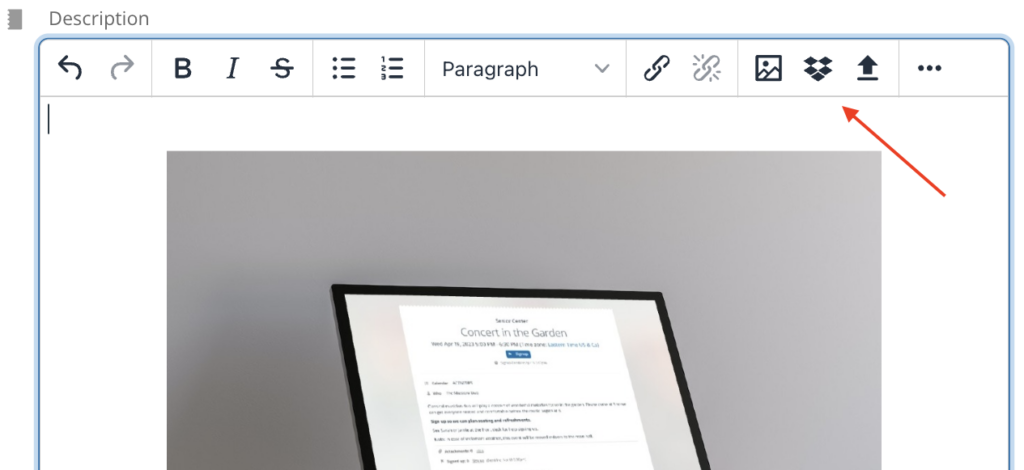 Option 1: Link to an image
Select the image icon in the tool bar. Paste in the image URL and adjust the image size as needed.
Option 2: Insert an image from Dropbox
Select the Dropbox icon. You may be prompted to log into Dropbox. Once logged in, choose the image or file from your Dropbox folder.
Option 3: Upload an image
Select the upload icon. You can choose to upload an image from an online service storage service (such as Flickr, Google Drive, Instagram, and others) or from your computer storage. 
Event comments
When the Comment feature is enabled, users can add and view comments in the event viewer/editor, and on the event page. Event comments have a toolbar like the Description field with formatting and uploading options. See more about event comments.
Attachments field
The Attachments field allows you to upload files to an event in a dedicated field. You can then choose to insert attachments into the Description field, if desired.  You can upload multiple files and show or hide the list of attachments in the field.
Learn more about uploading images and files to Teamup.
Images on event pages
Having images displayed in event details is a great way to create beautiful event flyers right from your calendar.   Once you have created such a "virtual flyer," you can share the event as an independent web page. Then share the page link anyway you want, through email, messaging, or social media.
Here are two examples:
Display as inline images
In the list or agenda view, images in the description field will show as inline images when the Details box is checked: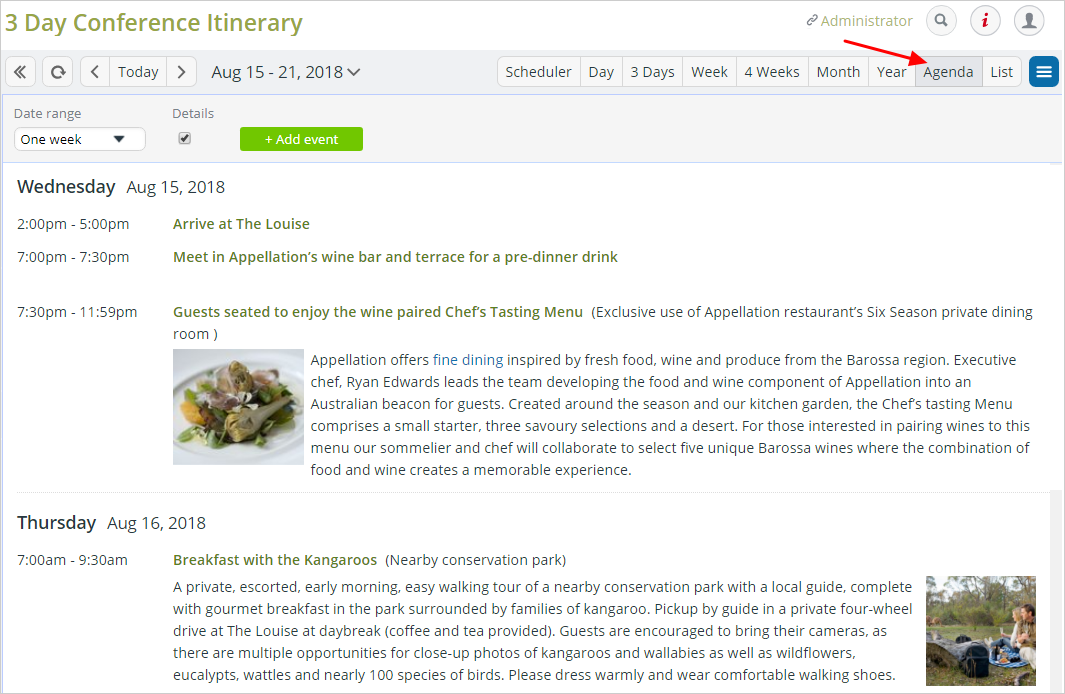 This feature makes it easy to create and share program itineraries, event brochures, party flyers, invitations, conference agendas, presentation info, and more using your Teamup Calendar.
Any changes to the event or calendar are instantly updated for all users.