Calendar events are often comprised of more than just a date and a time. It is often necessary to include event-related documents such as meeting agendas, travel information, instructions to perform the job or a pictures of goods delivered. It is therefore useful to be able to attach files and pictures to the calendar event.
Teamup Calendar allows you to upload such images and documents to an event. Images are displayed and documents are linked to the event. Attaching a file to an event is as simple as attaching it to an email.
Inserting files stored on Dropbox is free to all users.  To do so, simply click the Dropbox icon.  If you would like to upload files and images to Teamup's file servers, a Premium subscription is required. If you are currently on a Free or Plus plan, it's easy to upgrade to the Premium plan. You can try this feature in the Live Demos, which have the Premium features enabled.
RELATED: How to Upload and Display Inline Images in Teamup Mobile Apps
How to upload files and images
To attach a file or upload an image to an event, open the event editor, then simply click the upload icon in the event:

A pop-up window appears with a list of source options.  You can upload files from your local computer, mobile devices, or one of the many supported file hosting services such as Dropbox, Google Drive, OneDrive, Instagram, Flickr and many more.  It is possible to upload multiple files or images at once.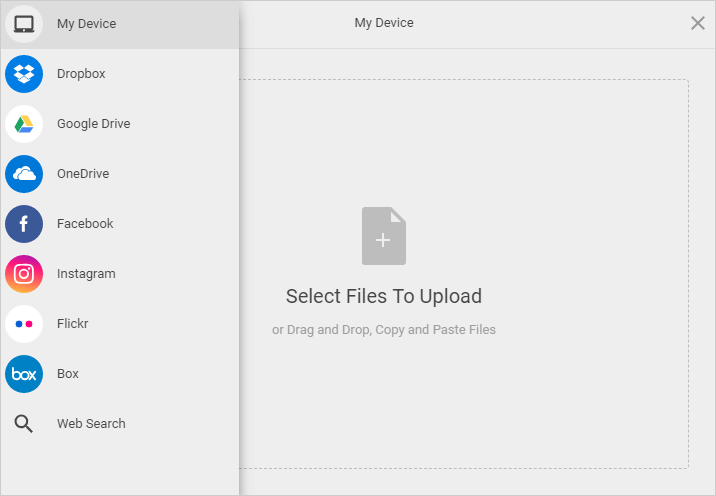 Supported files sources
My Device
Dropbox
Google Drive
OneDrive
Facebook
Instagram
Flickr
box
Link / Web images
Supported file types
To know whether a file with a specific file format can be uploaded, you may check the MIME type of the file.  The following MIME types are currently supported:
image/
text/
application/
Many commonly used file formats such as .pdf, .doc, .ppt etc. have MIME type "application/", therefore you can upload and attach them to your events.  Here's is a summary list of file formats and their mime types.
File management
Each file uploaded using Teamup's premium uploading feature is assigned a unique URL containing a randomized strings that prevents unauthorized users from finding the document. Uploaded documents are deleted 30 days after a document link is removed from an event or an event is deleted.
The maximum file size that can be uploaded is 15 MB. The available file storage space per calendar is 10 GB. If you reach that limit and need more space, please contact support@teamup.com.
Domains to be whitelisted
If your organization uses a firewall to control your network traffic, it is important to whitelist these domains to ensure the file uploading function to work properly:
fonts.gstatic.com
fonts.googleapis.com
s3-eu-west-1.amazonaws.com
static.filestackapi.com
process.filestackapi.com
www.filestackapi.com
upload.filestackapi.com
cloud.filestackapi.com
cdn.filestackcontent.com