You can insert images or file links into Teamup calendar events directly from your Dropbox acount. users. To learn about inserting or uploading images from other services, see this article.
Insert a file from Dropbox
Open the event. 
Scroll to the field where you wish to insert the image:
If not logged into Dropbox, you will be prompted to do so.
Save the event.
Resize Dropbox images in your Teamup Calendar
By default, the image will be displayed in its original size, which may be too large for your calendar in many cases.
Resize the image by clicking on a corner tab of the image and dragging inwardly to reduce the size.
You can also modify image details in the image editor:
After the image is uploaded, click on it.
Then click the image icon to open the Insert/Edit Image window.
In the General tab, you can add an image description, if desired: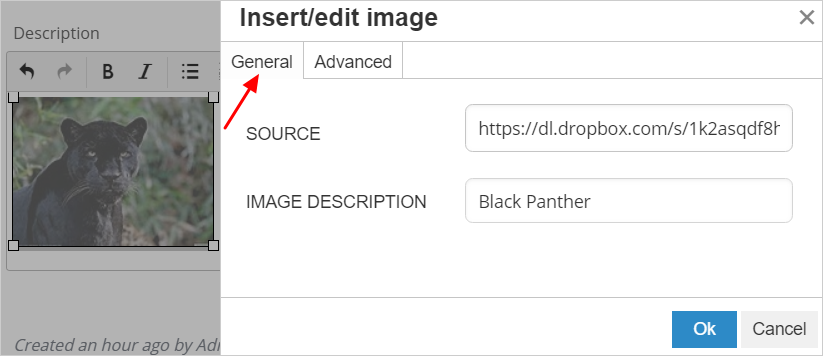 Select the Advanced tab to apply additional customization:
Enter numbers in the boxes to adjust vertical or horizontal space around the image. The measurement is in pixels.
Enter a number in the border box to add a box; the width of the border is measured in pixels. If you enter the number 5 in the border box, a border with a width of 5 pixels will be added to your image.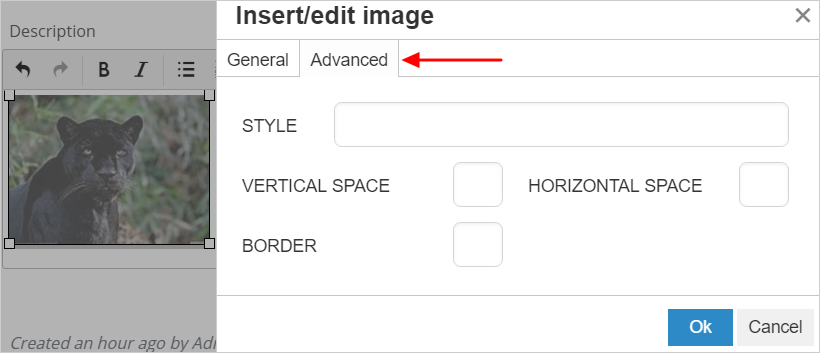 Good to know
When inserting a file to your calendar event from Dropbox, a link to your Dropbox file is inserted into your event. If you move the image or file to a different Dropbox location, or remove it from Dropbox, the link will be broken.
Teamup Calendar also allows you to upload images and documents directly into events as explained here.