It is possible to allow for the adding of comments to individual events. Comments can serve as a way of monitoring progress, of obtaining feedback, or as an internal notes system (see below)
Please note that while our Android app does now support comments, they are not yet visible in the iOS app. To access the comments on an iPhone or iPad, please open your calendar in a mobile browser on your device.
Enabling Comments for Events
Open the event editor
Click Options and select Comments
Enable comments and select who can add/view comments. The options are 'All users' and 'Users with modify permission'
Once saved, users can comment and view existing comments on the specific events.
Carefully consider the options for 'Who can view comments'. If you'd like to comments to serve as internal or private notes that should not be visible to all users, you should choose 'Users with modify permission' and limit the modify permission to those regarded as internal users: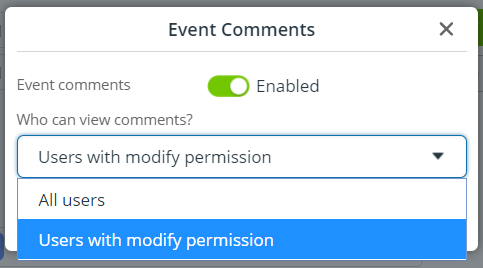 Adding and Viewing Comments
Once the Comment feature is enabled, users can add and view comments in the event viewer, the event editor, and the event page. Users with read-only access to the event or the calendar can add comments as well.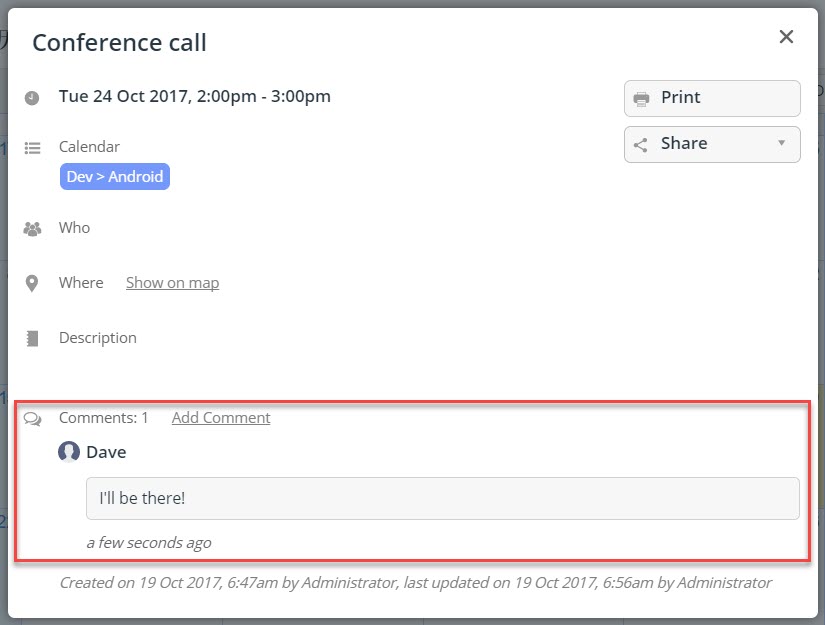 When adding a new comment, the user is asked to enter name and/or email address. Only one of these fields needs to be completed.
Successive comments will be listed in chronological order. Only the calendar administrator or those with modify access can delete comments.
Event page view
The comment section also appears when sharing an event as a web page: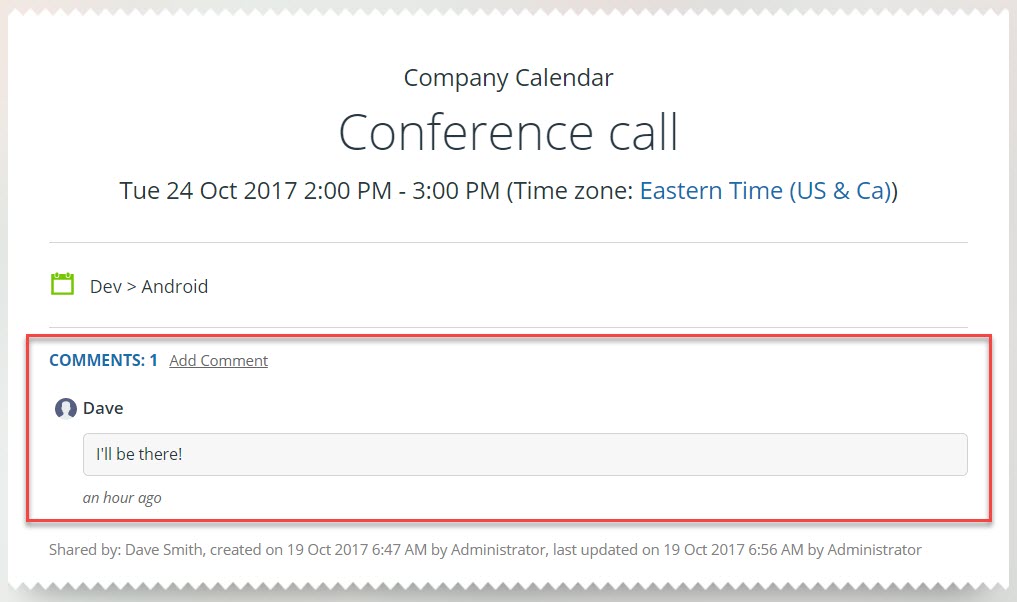 Take note
Comments can be set to be enabled for all newly created events. To do this, the calendar administrator should go to Settings > Event fields and click to edit the Comments field. Check the box to set comments to enabled:

Some Examples of Use Cases
Field crews are often given read-only access to scheduled jobs. A crew member may now add a note to the event to update the job status or when the job is done.
Participants of conference calls may be invited to post ideas or feedback related to the specific conference call without submitting all that information via email.
School or community events may call for volunteers or resource contributions from the community. Interested parties may respond or sign up directly in the event comments section.