ℹ️ Teamup account users can set up change notifications (discussed here), daily agenda emails, Slack notifications, and event reminders To subscribe to or modify a notification, you must be logged in to your Teamup user account. 
---
Using change notifications
Teamup change notifications allow calendar users to be notified when changes are made to events on the calendar. Teamup currently support change notifications via email. Support for push notifications (mobile) is in development. 
Important: to subscribe to notifications or to modify your notification preferences, you must be logged into your Teamup user account.
If you wish to receive notifications without having a Teamup user account, ask your calendar administrator to set up notifications for you. Calendar admins: See how to create and manage notifications. 
Access change notifications
Ensure that you are logged into your Teamup user account.
Open your calendar.
If you try to subscribe to or modify notifications when you are not logged in, you will be prompted to log in first: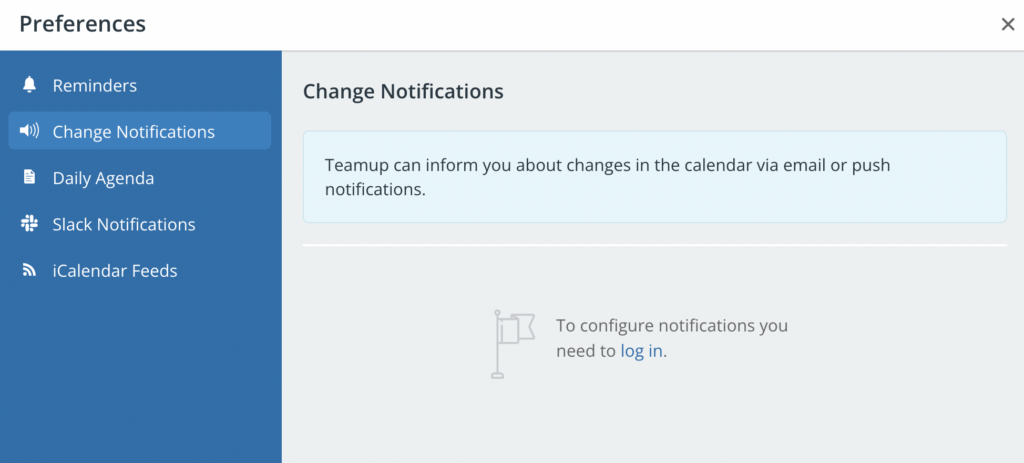 Log in to your account and you will then be able to configure your notifications as needed. If you do not yet have a Teamup user account, follow the log in link and you can create a new user account.
Subscribe to notifications
The information here applies to all account users at any level of access permission who are logged into their Teamup user account. 
As instructed above, from the blue menu, select Preferences > Change Notifications.
Choose the notification type you wish to set up. (Currently you can only choose email notifications. Support for push notifications is in development.)

On the next screen, your email address will be pre-filled. If the toggle button is red (deactivated), toggle it to green.

Continue as shown below to set your notification preferences, then click the green Save button.
Set notification schedule
In the When section, select when you want to receive notifications: Immediately or Daily Summary.



Set notification type
In the What section, choose the notification type: Selected (set the notification type for each calendar individually), None, New events, Important changes, or All changes. Important changes include new events, deleted events, and date and time changes.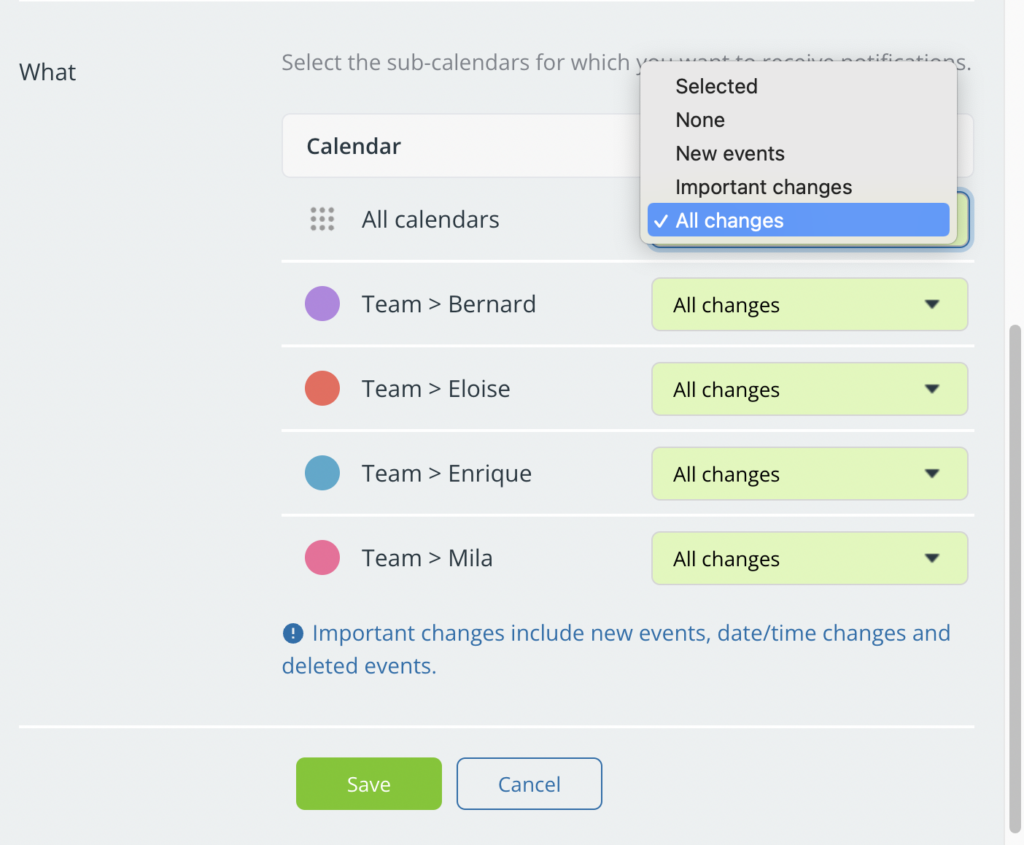 One notification type for all calendars:
Selected notification types for individual calendars: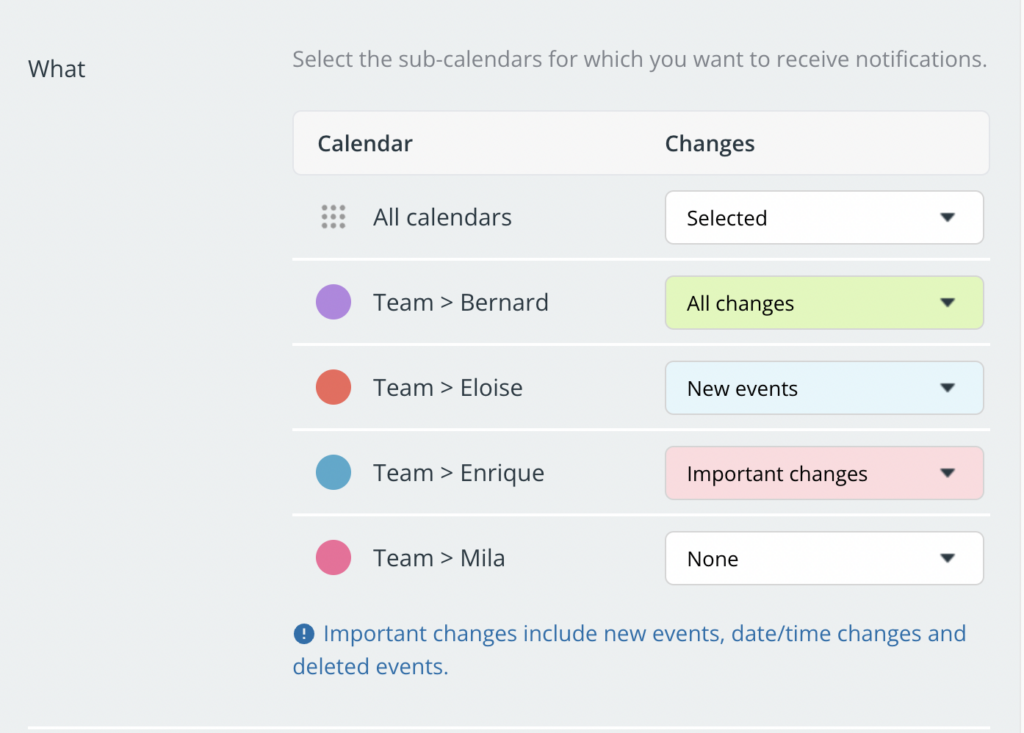 The notification email
The notification email contains a summary of the change(s) to the calendar, as well as a link so that you can open the relevant event directly in the calendar.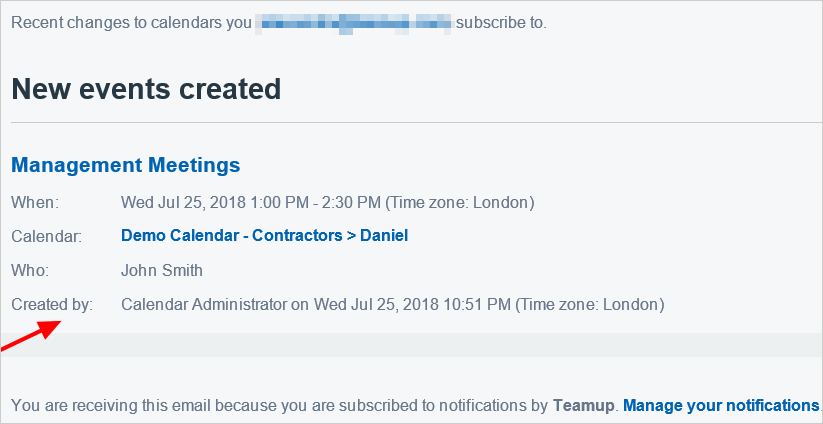 The first line indicates the email address that was used to subscribe to the notifications.
Events are grouped by the type of changes made.

There is a link to the actual event that has been changed or newly added.
The calendar to which the event belongs to is also listed and is clickable.

For security reasons, DO NOT forward any of your notification emails to others who may not be authorized to access your calendar link. To share a calendar event with someone who does not have access to the calendar, use one of the Sharing options on the event itself. See more about sharing a calendar events.
Notification subscriptions for the email address are accessible by clicking the Manage your notifications link at the bottom of the email.
Unsubscribe to Teamup notifications
Follow the Manage subscriptions link at the bottom of any notification email to Unsubscribe to a notification subscription. You will be see a screen like this: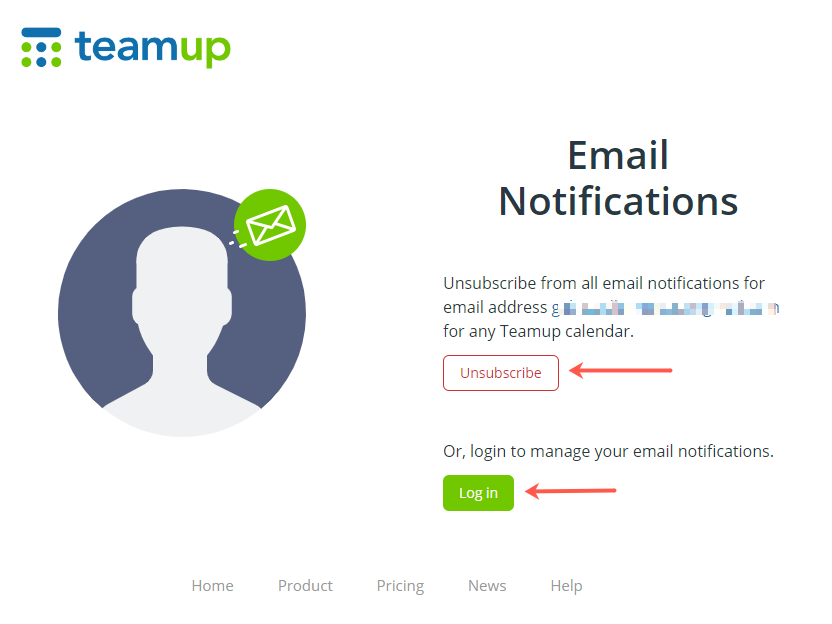 From this screen, click Unsubscribe to cancel notifications, or click the green Log in button to log in to your user account and see all your subscriptions or modify the notification settings.
Important notes
If you have administrator access to the calendar, you can see all notification subscriptions in Settings > Notifications, and manage them accordingly.
Changes to past events are only available to users of Premium calendars.
Emails are sent a maximum of every 5 minutes and are delayed at least 5 minutes after the first change happens. These limits are in place to reduce email volume.
Daily summaries are sent out between 7am and 8am CEST (Central European Summer Time) and CET (Central European Time). This translates to 5am to 7am GMT, 1am to 2am US Eastern Time, 10pm to 11pm Pacific Time and 4pm to 5pm Sydney time.
Email notifications can be disabled or enabled by the calendar administrator in Settings.

If the administrator disables a notification subscription, this does not unsubscribe any existing notification subscribers, but only stops sending notification emails.
If Notifications are enabled again by the administrator, subscribers will once again receive the notifications.
Keywords: email, calendar alerts, calendar notifications, calendar updates