The calendar dashboard, a feature enabled by a user account, is your central location for all your Teamup calendars.
With a calendar dashboard, you don't have to bookmark separate calendar links. Your dashboard remembers all your calendars for you and is accessible from any browser. If you use the Teamup mobile apps for iOS or Android, you can log into your user account and enjoy a synced, global calendar dashboard.
Remove a calendar from your dashboard
When you no longer want a particular calendar on your dashboard, it's easy to remove.
Please note removing a calendar from your dashboard only removes your access to the calendar.
The calendar will continue to exist and be accessible to other users. Any active paid subscription plan associated with that calendar will continue as is. If you need to cancel a subscription plan, follow these steps. If you need to delete the entire calendar, do so as described here.
On the browser

From your web browser, access your calendar dashboard as usual.
Hover over the calendar you wish to remove.
Click on the Remove link when it appears; you'll be sent to a screen confirming your removal.
Click the red Remove button to remove the calendar. Click the green Keep Calendar button if you've changed your mind or chosen the wrong calendar to remove.
On the mobile apps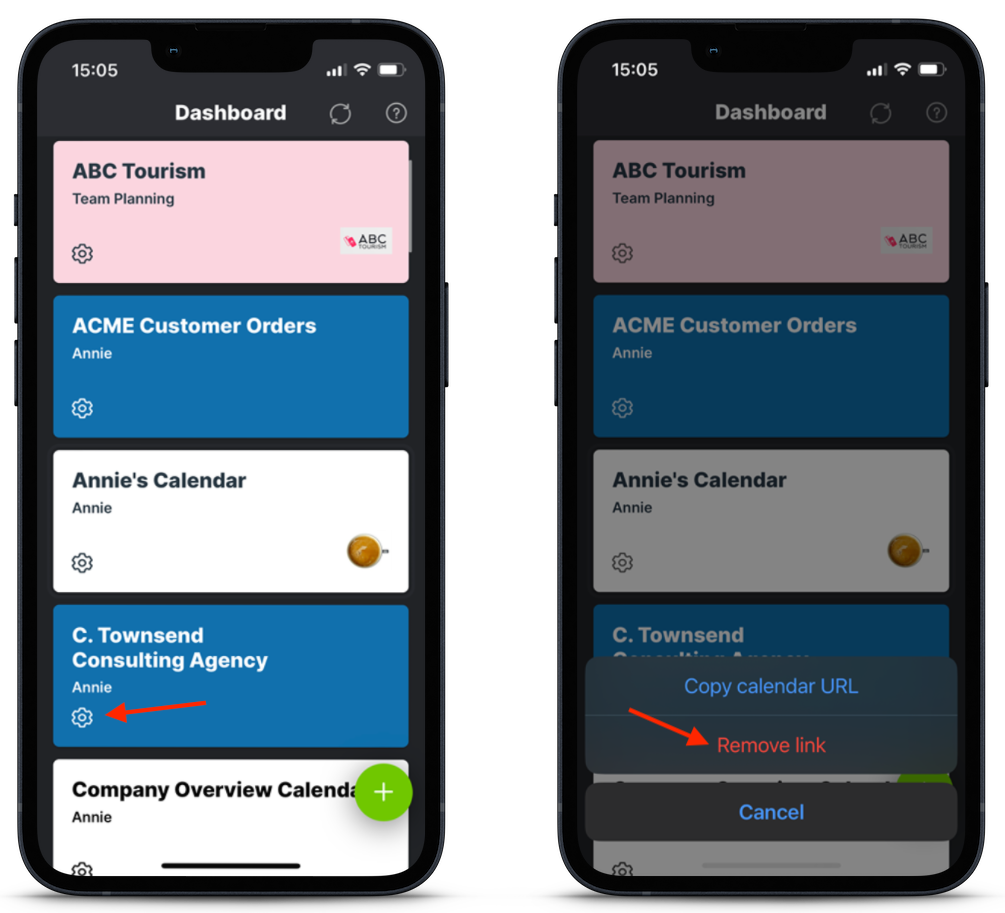 From the Teamup mobile app for iOS or Android, swipe to open the left sidebar.
Tap the calendar icon to open your calendar dashboard.
Find the calendar you wish to remove in your dashboard.
Tap the Gear icon on the calendar title, then choose the Remove link option.
A confirmation screen will open. Tap the red Remove calendar button. If you've made a mistake or changed your mind, simply hit the Back button.
See more about the calendar dashboard, or how to add a calendar to the dashboard in a browser or in the Teamup mobile app.