You can view a read-only version of your Teamup Calendar events from other calendar applications using the iCalendar Feed. The web addresses of Teamup iCalendar Feeds start with webcal:// and end with .ics.  You can get the Feed URLs by clicking the menu sign on the top right corner and then select iCalendar Feeds.  If this is not visible in your menu, then the iCalendar Feed feature is disabled. Only the calendar administrator can enable or disable this service in the calendar Settings.  See also what you need to know before enabling Teamup iCalendar Feeds.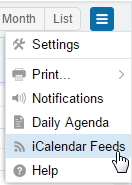 In some applications such as iCal and Outlook 2007+, clicking on the feed URL will automatically launch the calendar application and the corresponding dialog appears.  If that is not the case, you need to:
Copy Teamup Calendar Feed URL
Paste the Feed URL in the feed address field of the subscribing calendar applications

APPLE iCal
SUBSCRIBE
1. Open File, select New Calendar Subscription
2. Paste the URL you copied from your Teamup Calendar feed, click Subscribe
3. On the next screen, edit the name, etc. and choose the auto-refresh frequency (from every 5 min. to every week).  Click OK.
See also instructions from Apple.  If you'd like to have iCloud to push a Teamup Calendar feed to all your Apple devices, subscribe it on your Mac (not on iPhone or iPad), make sure to choose "iCloud" as the Location as described here.
DELETE
To remove a feed from iCal:
click Calendars on the top left.  Your subscribed Teamup Calendar appears under Other or iCloud.
Select the calendar you want to delete
Choose from menu Edit -> Delete.
See also additional tips.

iPad / iPhone
For iPhone users, in most cases tapping the Teamup iCalendar feed URL will launch the calendar application and the feed subscription dialog appears.  If that is not the case for you, follow these steps:
On the Home screen, tap Settings.

Tap Mail, Contacts, Calendars.

Tap Add Account, then Other.

Choose Add Subscribed Calendar.

Enter the feed URL of the Teamup Calendar you want to subscribe to.

Tap Next to advance.

After you subscribe to Teamup Calendar, it appears just like any another calendar on your iPad.
If you are subscribing to a Teamup iCalendar feed that contains multiple sub-calendars, the colors for each sub-calendar on your original Teamup Calendar will be lost.  Instead, you will assign one color from your iPhone/iPad for the entire Teamup Calendar feed.
To change the update frequency on Mac OS:
Select the calendar in the sidebar and then choose Get Info from the Edit menu
If you selected a subscribed internet calendar, you will see an Auto-refresh popup menu
Select your desired refresh frequency from the Auto-refresh pop-up menu
Click OK to save your changes
To remove a subscribed calendar from your iPad or iPhone, check out this article.
GOOGLE CALENDAR
Click the arrow next to Other Calendars
Click Add by URL
See also Google's instructions.

OUTLOOK (WITH EXCHANGE)
1. In Outlook, click File > Account Settings > Account Settings.
2. On the Internet Calendars tab, click New.
3. Paste the feed address you copied from your Teamup Calendar, by pressing CTRL+V, and click Add.
4. In the Folder Name box, type the name of the calendar as you want it to appear in Outlook, and then click OK.
When you start Outlook, it checks Teamup Calendar for updates and downloads any changes. If you keep Outlook open, it also periodically checks for and downloads updates.   However, Outlook (and many other calendars as well) may not update for up to 48 hours!
See also Microsoft's instructions or instructions for subscribing from Outlook for Mac.

OUTLOOK.COM
SUBSCRIBE
1. Go to Calendar and click Import
2. Select Subscribe and paste the feed address you copied from Teamup Calendar, name it, and click Subscribe.
DELETE
1. Go to Settings (gear sign on the top right corner), select Option.  A list of subscribed calendars is displayed.
2. Select the calendar feed you want to delete:
See also Microsoft's instructions.
Inbound iCalendar Feeds – How to Subscribe to Other Calendars
TEAMUP CALENDAR
To subscribe from one Teamup to another Teamup calendar, you need to have the administrator access to the destination Teamup Calendar.
From your administrator link, go to Settings > Calendars.
Click the blue button "New" in the top right and select "Add iCalendar feed", then fill out the form.
See Teamup inbound iCalendar feeds for more details.
BLACKBERRY
1. Tap Settings followed by Accounts
2. Tap Add Account followed by Subscribed Calendar
See also instructions here for how to subscribe to Teamup from Blackberry .
ENABLE OR DISABLE iCALENDAR FEEDS
Teamup iCalendar Feeds can be enabled or disabled by the calendar administrator in Settings:

Keywords: sync, export, update