Teamup allows calendar administrators to subscribe to iCalendar feeds from other calendar products. The iCalendar format is a standardized data format for the exchange of calendaring data between calendar products. It is supported by many products, including:
Google Calendar
Apple Calendar
Outlook
Teamup Calendar managed by other groups
Facebook events
Trello calendar power-up
And any other applications that provide .ics feeds
iCalendar feeds are added as sub-calendars and can be shared as read-only calendars.  It is an active one-way synchronization, meaning that Teamup periodically fetches the latest feed content and updates the calendar.  Please note that it is not possible to send changes back to the feed source.
To add an iCalendar feed to your Teamup Calendar, you need to
Find the feed URL of the calendar that you want to subscribe to
Add the feed URL to your Teamup Calendar in Settings > Calendars.
1. Find the feed URL
Where to find the feed URL is different for each calendar product or application. See how to find feed URLs for some calendars here.
2. Add an iCalendar feed to your Teamup Calendar
Go to your administrator link. Open the Settings of your calendar and select "Calendars" on the left. Click the button "New" and choose "Add iCalendar Feed".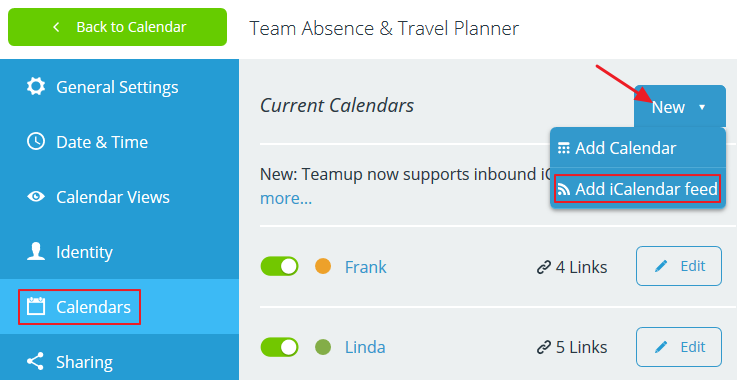 Choose a name for your new sub-calendar, select a color, then copy/paste the iCalendar feed URL into field 'Feed URL'. Finally, choose how frequently you want the calendar to update, and save.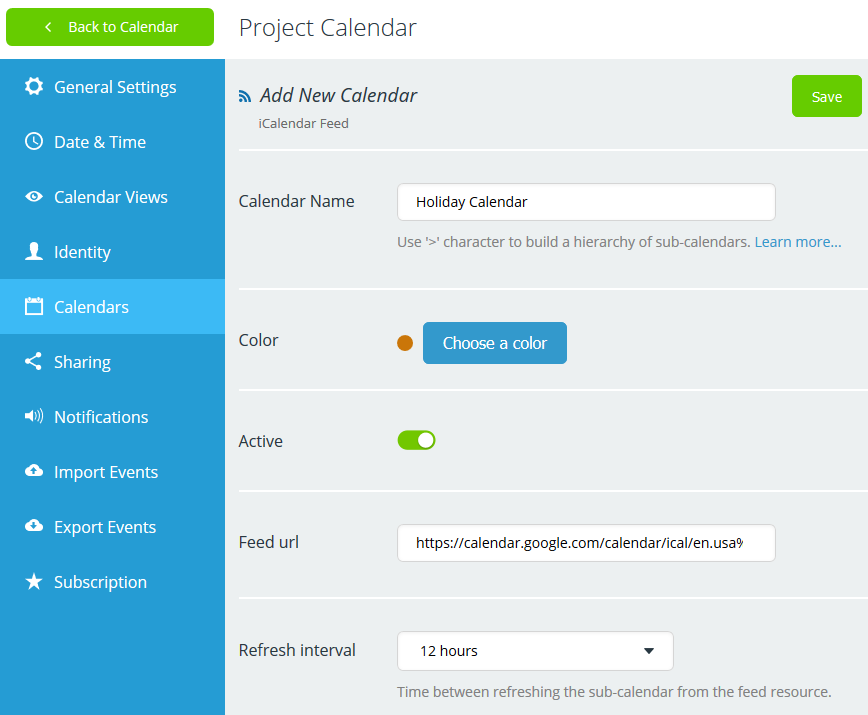 Refreshing interval and status
The feed source is fetched periodically by Teamup to update the sub-calendar. The available refresh frequencies depend on the subscription plan of the calendar:

12 hours: Basic plan, free
4 hours: Plus plan
1 hour: Premium plan

The initial fetch will take place immediately after configuring a new iCalendar feed. After that, the feed source will be re-fetched with the configured frequency.
The feed status (last fetch date, errors) is shown in the list of calendars.
Obtaining source iCalendar/ics feed URL
Google Calendar

Open your Google Calendar.  From the calendar list on the left, locate the calendar for which you want to obtain the feed URL.  Click on the arrow to the right of the calendar name and select 'Calendar settings'.
Scroll down to section 'Private Address' and click the green 'ICAL' button. The link that pops up is your iCalendar feed URL.

Apple Calendar (iCal)

Open the calendar app on your Mac.
From the calendar list on the left (click "Calendars" if it is not visible), right-click the one you need the feed URL, select "Copy URL to Clipboard".

Trello Boards with Due Dates

Please see details here.

Teamup Calendar

Open your Teamup Calendar in a browser, click the menu in the top right, select "iCalendar feeds".
Click to select and ctrl-c to copy the feed URL of a sub-calendar or all sub-calendars.
Note:
– Check out these holiday calendar feeds if you need one or more holiday calendars for your Teamup Calendar.
– Related reading: Import or sync data from one Teamup Calendar to another.

Outlook Office 365 Calendar

You'd need to publish your Outlook calendar and get the .ics link as demonstrated in part 3 of this video tutorial. The link should starts with webcal:// and ends with .ics.

Outlook.com Calendar

Open your Outlook.com calendar.  Go to Settings > Options.
Click the calendar you want to feed to Teamup.
Under the Sharing section, click "Edit sharing", then click "Get a link".
Decide whether you want to show event details or free/busy time only, then click "Create".
Copy the URL for Import into other calendar applications (ICS).

Outlook with Exchange
It is more complicated with Exchange and you may need to ask your Exchange administrator for permission and help to publish your calendar(s) so you can get your feed URL:
– http://technet.microsoft.com/en-us/library/ff607475%28v=exchg.141%29.aspx
– http://technet.microsoft.com/en-us/library/dd298124%28v=exchg.141%29.aspx
Keywords: synchronization, transfer