Administrator access provides complete access to your Teamup calendar, including all calendar settings.
If you created a Teamup calendar prior to September 2020, you may have an administrator link without having a user account. This article explains what to do if you have lost administrator access to your calendar.
---
Check your calendar dashboard
The easiest place to start: your calendar dashboard.
If you have a Teamup user account, you have a calendar dashboard. To access your dashboard, log in to your user account. The dashboard will open.
If you used the same email address to create your calendar that you used for your Teamup user account, then the calendar would have been automatically added to your calendar dashboard.
This can be the easiest way to regain administrator access to your calendar. Check your dashboard and see if the calendar is already there. If so, open the calendar. Are you able to access settings from the blue menu in the top left? If so, you have administrator access to the calendar.
Check your email
For calendar created prior to September 2020, you may be able to regain administrator access through your email. When you created your calendar, we sent you an email with access details for your calendar. Search your email inbox for an email with the subject line of "[Teamup Support] Your new calendar." Open the email to retrieve the initial administrator link.
We highly recommend switching to account-based administrator access as soon as possible. Here are the steps.
Contact our support team
If you have tried the options suggested above and are still unable to recover administrator access, we can help. Please contact support@teamup.com with the following information:
The email address of the calendar administrator (if known).
The title of the calendar (if known).
Any calendar links that you may have.
Good to know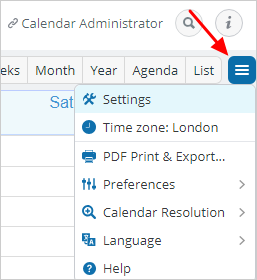 To protect the data of our calendar users, we can only provide administrator access to the registered email address. If your request for administrator access is a result of a personnel change, we require a statement from your organization, manager, and/or previous administrator to confirm that you are taking over the calendar administration role.
To verify if you have administrator access, open your calendar and click on the blue menu icon in the top right corner. If you see Settings as a menu item, you administrator access. If you do not see Settings, it means that you have a lower level of access permission.