A recurring or repeating event is simply any event that you will occur more than once on your calendar. Rather than creating an event multiple times, you can use the Repeats menu, which built into the event editor. You can create and customize recurring events for many different timing and recurrence needs.
Here are several examples of supported recurring event patterns:
Weekly on Thursdays at 8:00AM, until December 31, 2019
Every weekday at 8:00am, forever
On the first Monday of every month at 10:00am, for 5 times
Yearly on July 4, forever
Every 2nd Wednesday for 5 times
When you create a recurring event, you can choose between the Daily, Weekdays, Weekly, Monthly and Yearly options. You can customize these options further:
Daily can be set to every day, every other day, every 3 days, etc.
Weekly can be set to every week, every 2 weeks, every 3 weeks, etc., and to selected days in the week.
Monthly can be set to every 2 months, every 3 months, etc., and set to a particular day: 10th day of the month or 2nd Monday of the month.
Yearly can be set to every year, every 2 years, every 3 years, etc., and to a particular day, like the Monthly option.
To create a recurring event in your calendar, click on the date you want the first instance of the event to occur. When the event editor opens, enter the event title and other details. Then check the Repeat box. The options for repeating events will open, and you can customize the repetition as needed.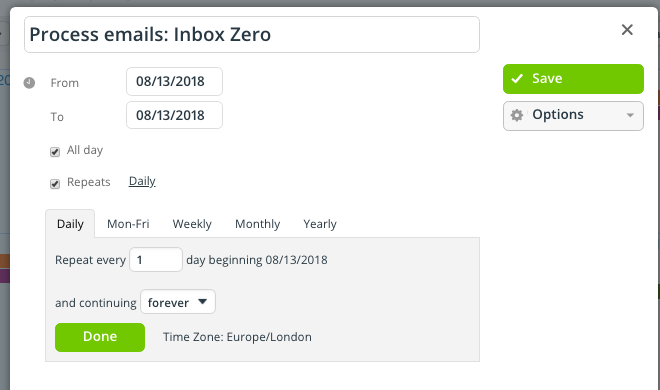 Good to know:
Learn more:
---