Option 1. Install the Teamup iOS App or Android App
Download the Teamup App for iPhone and iPad in the App Store.  See more detail here.
Download the Teamup App for Android devices in Google Play Store.  See more details here.
Option 2: Open your calendar in the browser and add it to the Home Screen
Teamup Calendar can also be accessed using the browser on mobile devices. For convenience, add a calendar link to your home screen to quickly access it with one tap, just like any other app. Below are helpful tips to enable mobile access and make the mobile experience easier.
Browse to your calendar link from the web browser on your device, then
For iPhone users: Tap the share button , then select Add to Home Screen.
For Android users: Tap the menu button (lines or dots) and tap Add to Home Screen. 
After creating the shortcut, tap the Teamup icon (see the graphic above) to access your calendar.
For Android users, if you experience difficulties operating your calendar in your browser, try to use Chrome or Firefox which have been reported to work better for Teamup Calendar.  It is reported that for Windows phone users, Opera works well (and see how to add to the home screen)
To make reading easier on a smartphone, you can display the calendar in the List view and turn the phone to landscape mode as illustrated below.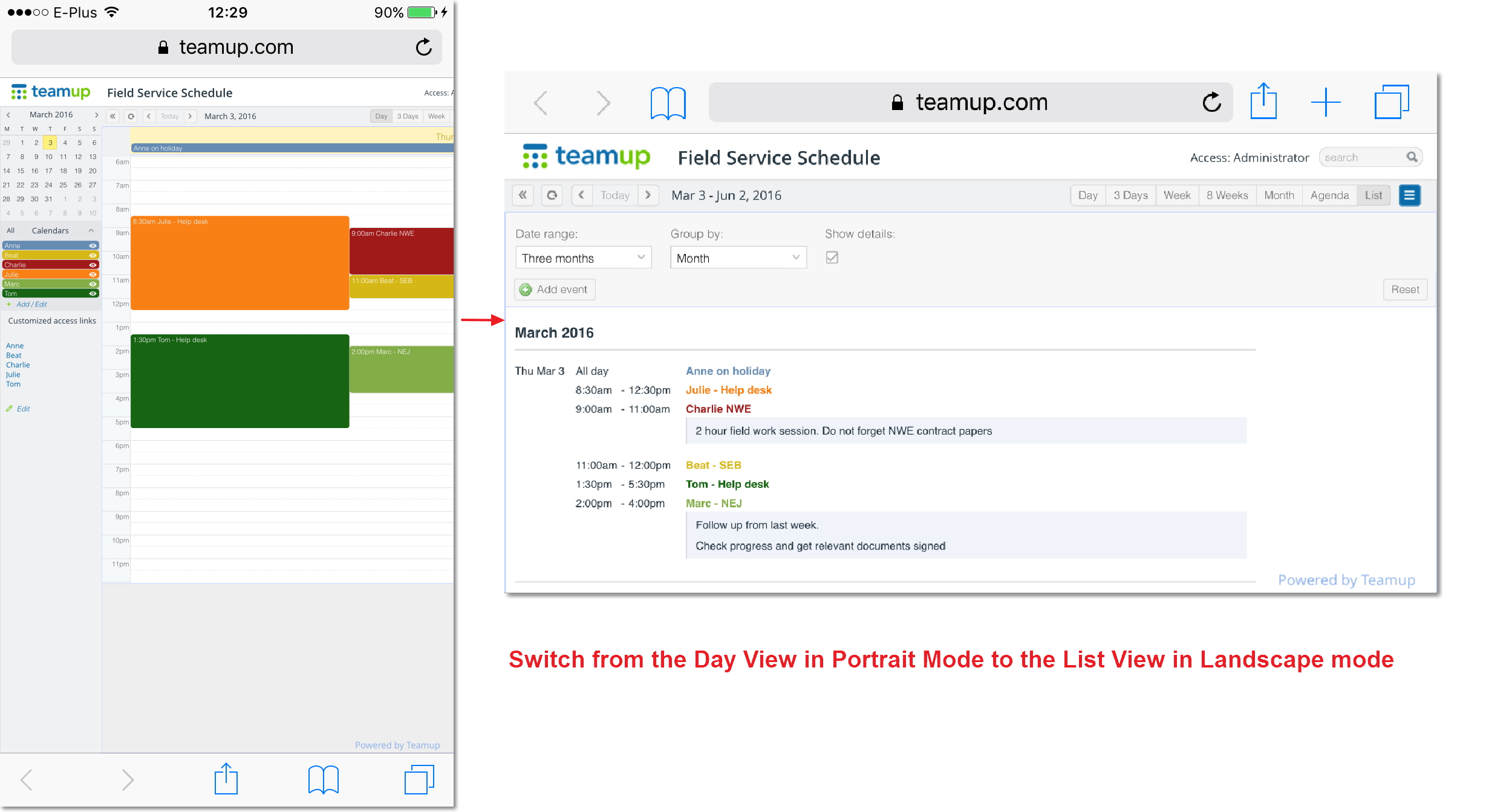 The Day, Month and Multi-week views, with the grid layout, are visually preferable and more convenient on a desktop computer or lap top. The Agenda or List Views, however, are better suited to viewing the calendar on a mobile device. Landscape mode displays a larger font size that improves readability.
To save additional space, we also recommend collapsing the left panel. You can achieve this in one of two ways:
1. Click the double arrow to the left of the date navigation buttons:



2. Or add "?view=a&sidepanel=c" (without quotes) to the link.
See Calendar Link Parameters for more information.
3. Subscribe Teamup iCalendar Feeds from Your Personal Calendar
If you only need to view your Teamup Calendar on your phone, you can subscribe to Teamup iCalendar feeds from your mobile phones directly, or subscribe from your Google Calendar, Outlook or another personal calendar, then sync your personal calendar to your phone.
Keywords: cellular, Nokia, Samsung Galaxy, LG, Motorola, HTC, Lenovo