A common usage of a Teamup Calendar is to allow for clients, a group of users or a community to schedule appointments or add events to a calendar directly. So without the sending of any emails and without contacting the calendar administrator and then waiting for updates. This is possible with Teamup's flexible way of sharing calendars via links with granular access control. See the full list of permission types and how to share.
The need to add events to a calendar
– A school or university may want students to sign themselves up for one on one discussions with teachers.
– A beauty salon or hairdresser may want to allow clients to create their own appointments online.
– In a team environment, members could request meetings on the calendar.
– A charity program may want volunteers to sign themselves up for shifts or events.
– A department in a large corporation or a small business may need to allow staff to request time off
Allow for approval
The above scenarios are straight forward enough with a Teamup Calendar, but one would more than likely need some sort of control over the process. This is where the 'Add-only' and 'Add-only, no details' permissions come in handy – you can essentially use a Teamup Calendar as a pending and approval system.
How to keep control over the process
1. Add a sub-calendar that would just be for event submissions, meeting requests, appointments or shift sign-ups . It could be called 'Submit Event' or 'Pending Appointments' or something more applicable.
2. Create a link for the sub calendar. Customize the link to share only the Submit Event/Pending Appointments calendar with the 'Add-only' or the 'Add-only, no-details' permission. In that way, those who use this link will only be able to add events to the event submissions calendar, and nothing more. They will be able edit any events they create within the same 30 minutes. Please note that the 'Add-only, no-details' permission does not allow the user to see the details in the other events. They will merely see other slots as 'Reserved'. If you want to allow the requester also to be able to modify what he or she submitted earlier, you could create a link just for that specific user and assign it with the "modify-from-same-link" permission.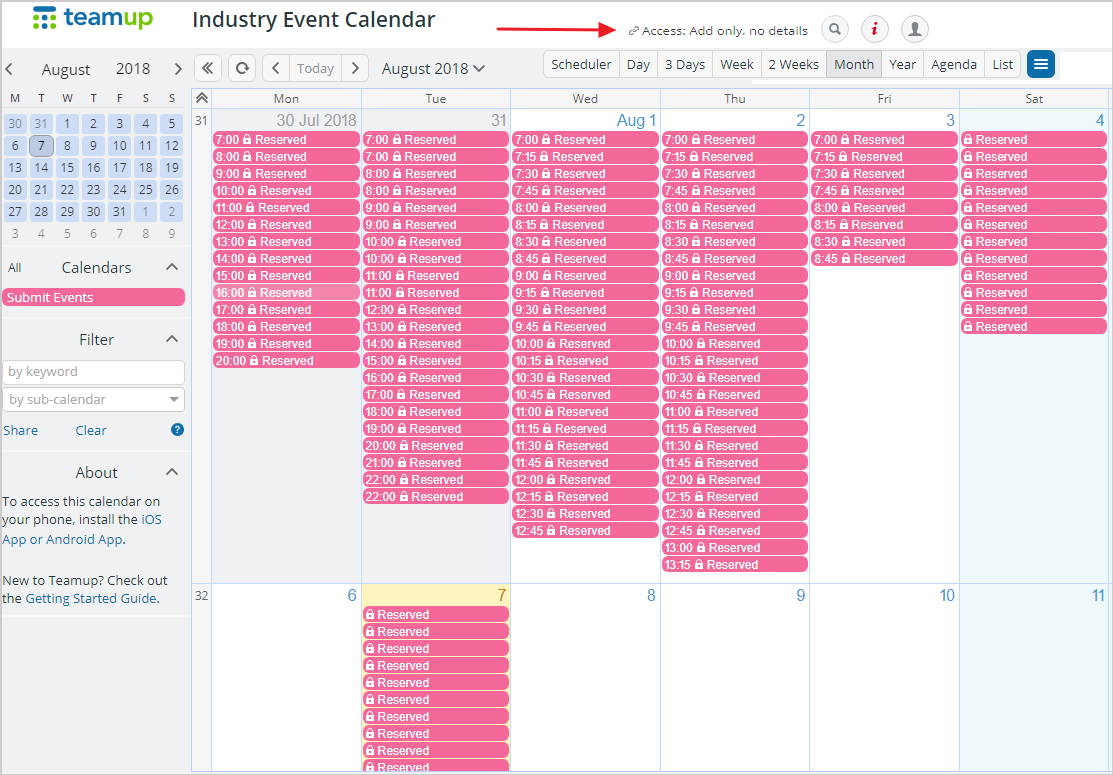 In the image above, with the 'Add-only, no Details' permission link, a person can only add events and modify them within the same 30 mins. Other events that have been previously added show as 'Reserved'
An alternate way to set the link up would be to additionally share the sub calendars (with 'read-only' permission) that hold the fixed events or appointments. That way, the person could see where there are slots available for adding their own event.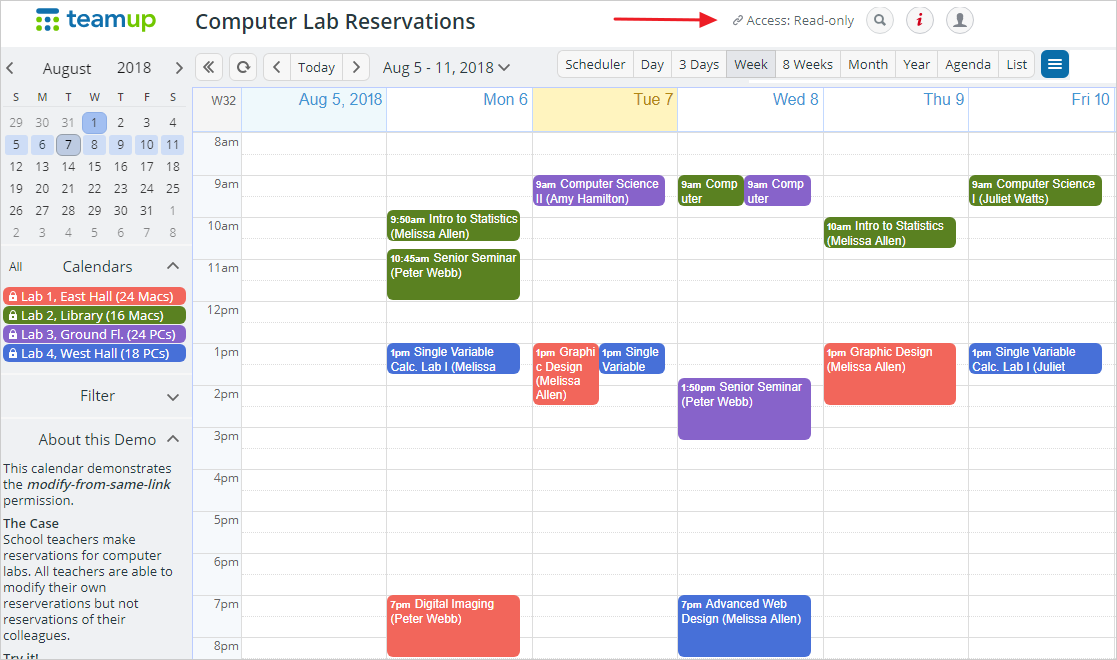 This straightforward Add-Only link (above) allows users to add events (only) to all sub calendars. This would be applicable when there is no approval necessary.
3. The administrator can then see the events that have been submitted, either via looking at the calendar, or by receiving an automated email notification.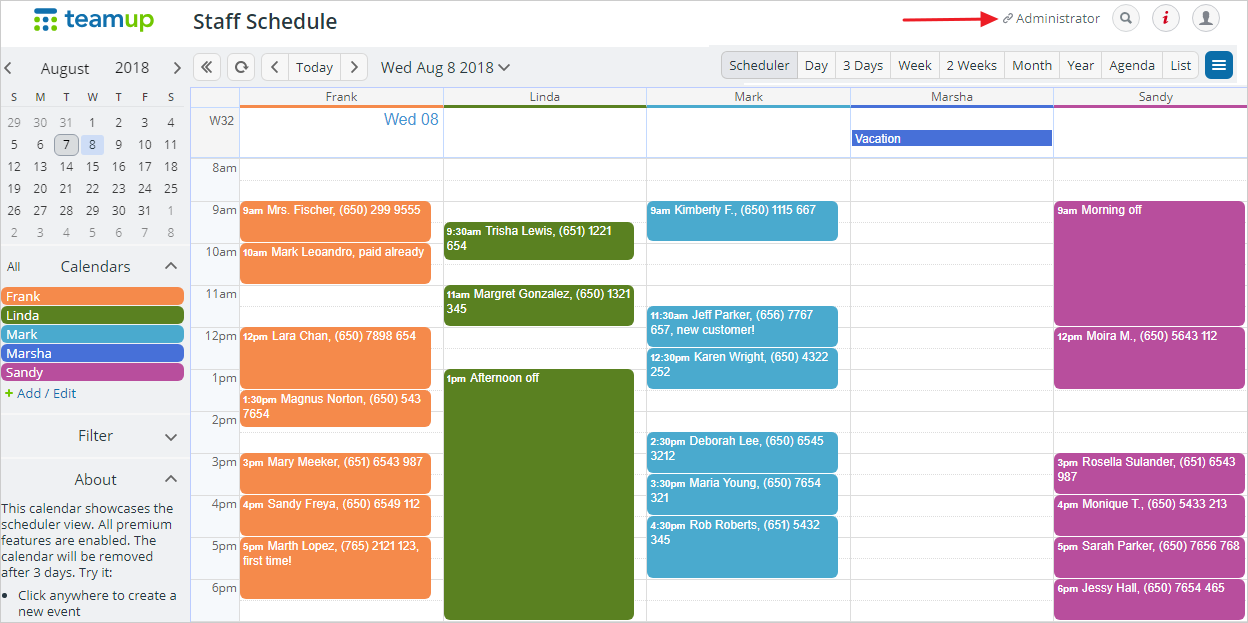 The calendar administrator can see all fixed events, plus events that have been added to the Submit Event sub calendar
Should the administrator approve of the event, he or she can then open it in the editor, drop down the calendar list and move the event from 'Submit Event' / 'Pending Appointments' to one of the main sub calendars that hold the fixed events and appointments.

Please note that in the Scheduler View this process is automated if you simply drag the completed task to the column of the completed tasks calendar (enable the Scheduler View in Settings > Calendar Views).
Try it out
Try a Live Demo here – make sure to click the Submit Events link in the About box on the left.  To see how this is configured, go to Settings / Sharing, and Edit that link.
Simpler data entry
This can be a simpler and faster process as opposed to receiving email queries or phone calls from users or clients wanting to create appointments. They enter the information directly into the calendar themselves which saves you time.
TIP: You can easily show and hide the various sub calendars to narrow down your view.
Keywords: approve, accept, authorize, disapprove, deny, reject, tentative, unconfirmed, confirmed, fixed, pending