What is the calendar dashboard?
The calendar dashboard is your central location for all your Teamup calendars.
With a calendar dashboard, you don't have to bookmark separate calendar links. Your dashboard remembers all your calendars for you and is accessible from any browser. Log in from anywhere, view your dashboard, and click to open the calendar you need to see.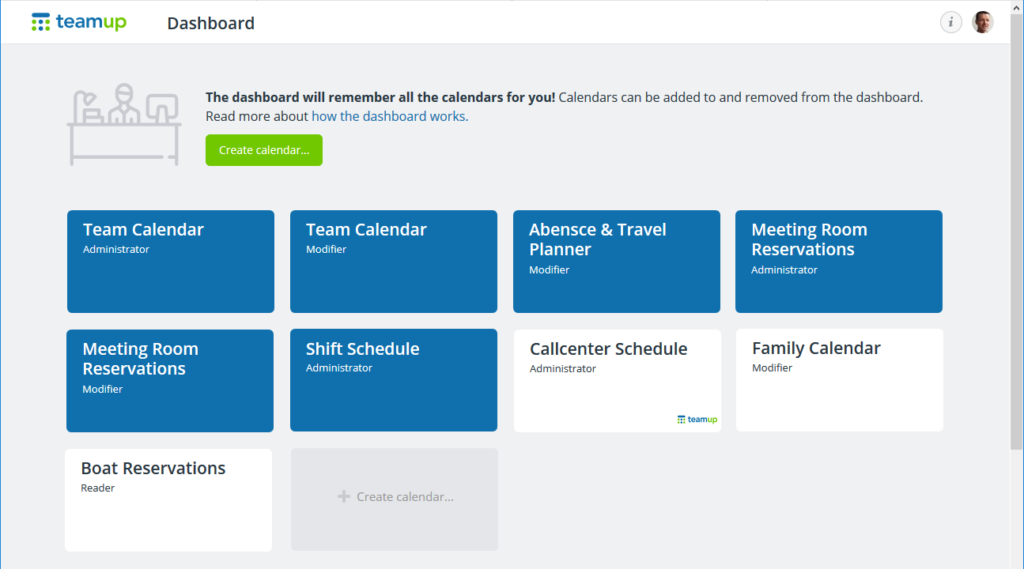 To use the calendar dashboard, you need to log into your Teamup user account. If you don't have a user account yet, create one here. It's free for anyone.
You can enjoy a synced, global calendar dashboard on your browser and Teamup mobile apps. If you use the Teamup mobile app for iOS or Android, log into your user account on your device. Your calendar dashboard will automatically synchronize between your mobile device and your browser dashboard. Get more details here for Android, and here for iOS.
If you haven't accessed your Teamup calendars while logged into your user account, you may not have added them to your dashboard yet. It's easy to add calendars to your dashboard: see here for browser instructions, and here for mobile instructions.
Learn more:
---