Teamup supports the import of invitation files in the iCalendar format. This feature is available in the blue menu top right (web application only).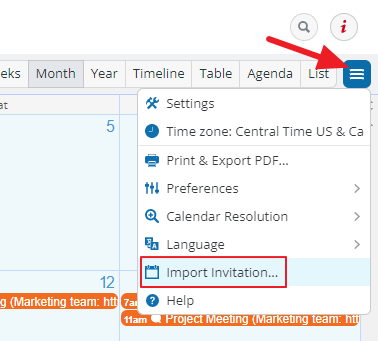 Invitation files are often attached to meeting invitations or booking confirmations from airlines, hotels and similar. Meeting invitations must be in the iCalendar format. They often have the extension .ics.
Steps:
Save the meeting invitation file (*.ics file) from the email to your local computer.
In Teamup, select the "Import Invitation…" menu item as shown above.
Select the invitation file and then click Import.
The imported event is displayed in the event editor. Review the information, select a sub-calendar and then click Save to store the event.
Please note:
If the invitation file contains more than one event, then only the first event is imported.
The Import function is available to all calendar users with permission to modify the calendar.
This is a new feature. Please let us know if you experience any issues. We welcome your feedback at support@teamup.com.