With Teamup Calendar, you can save your calendar to PDF easily. The calendar data, including all the event details, can be saved to a PDF document for local reference or offline access to calendar data. This article explains how to do so.
Recommended browser
We recommend using Google Chrome browser for this task. It allows you to create a PDF document from a web page without requiring any additional software.
How to save calendar data to PDF
Display your calendar in the Agenda or List view and check the box for Details if you want to include the event details.
Select the date range that you would like to save to your PDF backup.
Click the blue menu icon in the top right of your calendar. Select Print & Export PDF.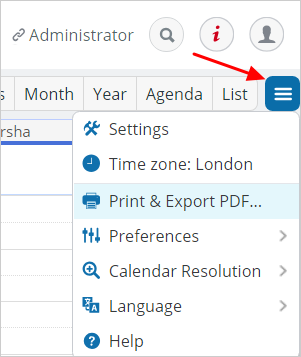 Adjust the print preview parameters until the calendar appears as you want it on the screen.
Click the Save icon in the top right. This will generate a PDF which will be saved locally to your computer.
Note that you can repeat this process periodically to create and save an updated version of all your calendar data stored locally.
Keywords: backup calendar data, download calendar data, save calendar to computer