Teamup Calendar can be added to a Facebook page as your own Facebook app or through a custom tab app via Woobox. However, page tab apps on Facebook Pages are not supported on mobile browsers and do not render in Facebook's mobile apps. One way to view Teamup Calendar on Facebook mobile is to add your calendar link in the Notes tab on a Facebook Page, or the Files tab on a Facebook Group. This article describes the steps to achieve this.
---
View on a Facebook page
Open your business Facebook page as the administrator.
Locate the Notes tab in the left panel of your page and click on it to open it.
At the right hand side, click on + Add note.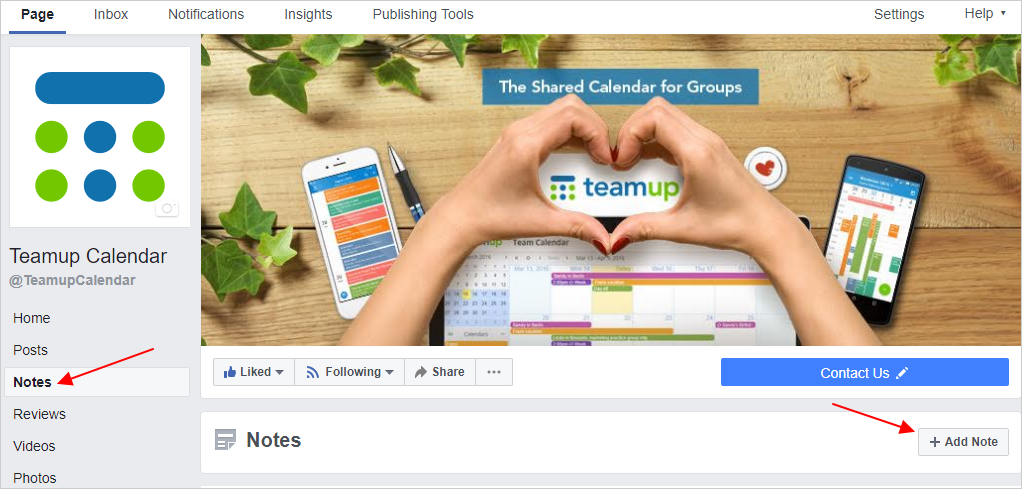 Add the title of your calendar, and paste your calendar link in the description field but make sure you DO NOT copy an administrator link. It is recommended to not use any link with modifying permission for Facebook integration.
Click Publish.
Optionally, move the Notes tab to near the top of the left panel.
View in a Facebook group
Similarly, you can add Teamup Calendar to your Facebook Group via the Files tab.
Open your Facebook Group as the administrator and locate the Files tab.
Add a file: Insert a title and paste the link to the file.
Click Publish.
Access Teamup calendar from Facebook mobile app
As you may know, Facebook prevents third party tab apps from being displayed within the Facebook mobile app.So another benefit of adding your calendar to the Notes or Files tab (both are Facebook's built-in tabs) is that your users will be able to view the calendar within Facebook's mobile app.
You'd need to tell your community to go to the Notes or Files tab to access your calendar since people normally won't look there for a calendar.
Shown below is the demo calendar you will see when you click the link inthe Notes tab on Teamup's Facebook page: