If you are the administrator of a Facebook Page, and you are looking to add your Teamup Calendar as a custom tab to your business page, like this live example, you've come to the right place. It takes 3 easy steps using a tab app by Woobox as described below.  Alternatively, you can create your own Facebook app and add it as a tab to your Facebook business page.
Note that your Facebook page should have a minimum of  2000 likes in order to use Woobox custom tab app.
Step 1: Have your calendar link ready

Make sure NOT to copy an administrator link. It is not recommended to use any link with modifying permission for Facebook integration.
Step 2: Use a Woobox tab app
In the Facebook search box type Woobox custom tab and pick the one listed below:

From the left hand side, select Install tab and then click on the green Install Page tab button.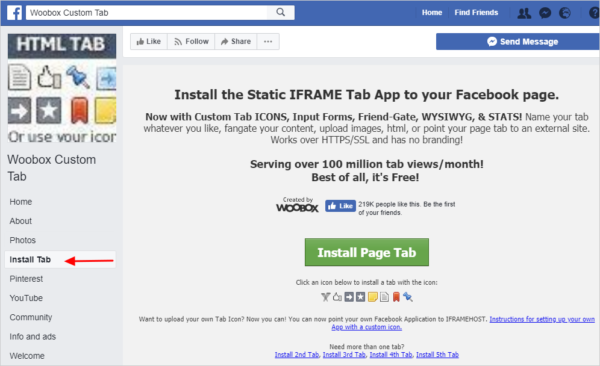 Select the Facebook Page (that you administer) that you'd like to add the tab to and click Add Page Tab button.
Go back to your Home Facebook business page and you will see a new tab, named by default Welcome.
To rename if, you will click on Settings button at the right hand side, then you will click on Edit page in the left hand side of your screen.
At the bottom, you will see the Welcome tab and at its right hand side, you will click on Settings.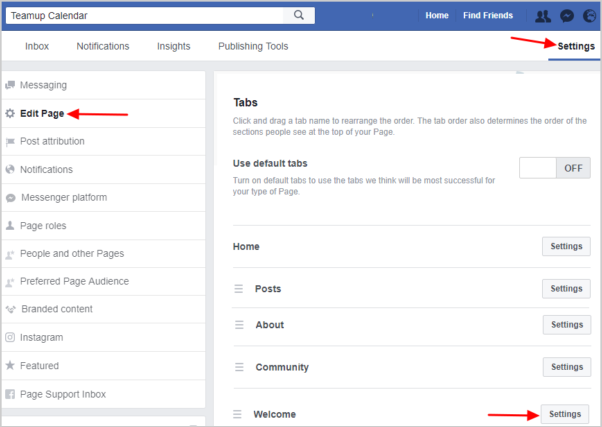 From this place, you will click on Edit Settings and you will be able to change the default tab name to your preferred name.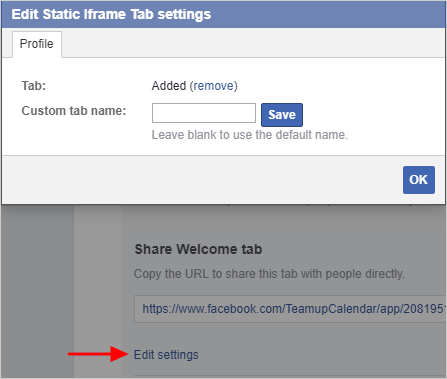 Important o know
Be sure to use a read-only or other restricted-access link for your calendar. Using your administrator link would mean your Facebook visitors could make changes to the data and the settings in your Teamup Calendar which is a risk and something we do not recommend.
Sort the order of your tabs in your Facebook page by going to Settings > Edit Page > Tabs.
Test the calendar tab in various browsers, including Google Chrome, Firefox, and Internet Explorer.
Calendars added to your Facebook page  using this method will not display if the page has less than 2k likes which is a restriction posed by Facebook.
The settings for Woobox and Facebook are subject to change. If you notice a discrepancy in these instructions, please do let us know .
When viewing a Facebook page using the Facebook app on a mobile phone, custom tabs created with freely available tab apps are not displayed. This is a Facebook restriction. If you wish to display your Teamup calendar on your Facebook mobile app, check this article.
If you would like to make additional adjustments to your new custom tab that you just added via Woobox, you can sign in into Woobox account using your Facebook page.