If you are the administrator of a Facebook Page and are looking to add your Teamup Calendar as a custom tab to your business page, like this live example, you've come to the right place. It takes 3 easy steps using a tab app by Woobox as described below.  Alternatively, you can create your own Facebook canvas app and add it as a tab to your Facebook business page.
Step 1: Have Your Calendar Link Ready
Create a Teamup Calendar if you don't have one yet

.

Go to Settings (menu sign in the top right corner), then Sharing.
Right-click the 'Reader' link (pre-configured with read-only permission) and 'copy link address'.
Be sure NOT to copy an administrator link. It is not recommended to use any link with modifying permission for Facebook integration.
Step 2: Use a Tab App
Open Woobox's custom tab app page from within Facebook, or another tab app of your choice.
The following instructions apply to Woobox: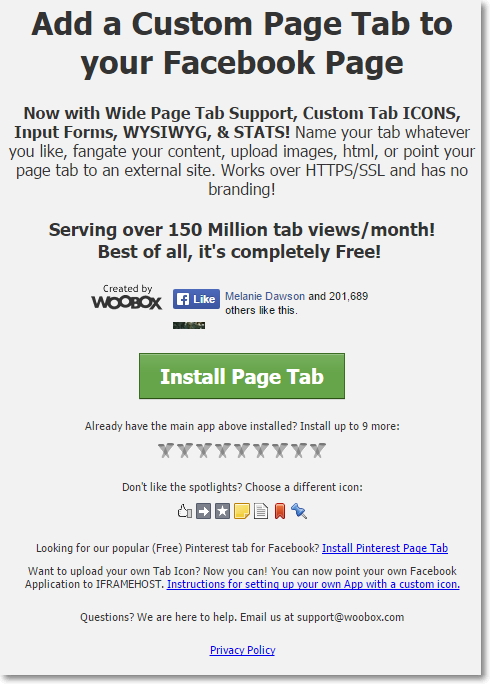 Click on the green Install Page tab button and follow the on-screen instructions.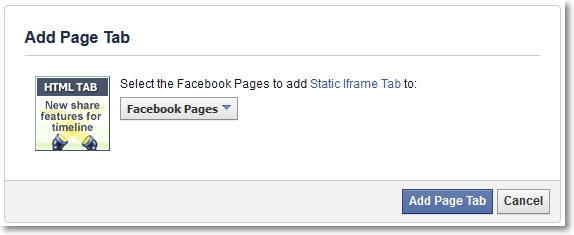 Select the Facebook Page (that you administer) that you'd like to add the tab to.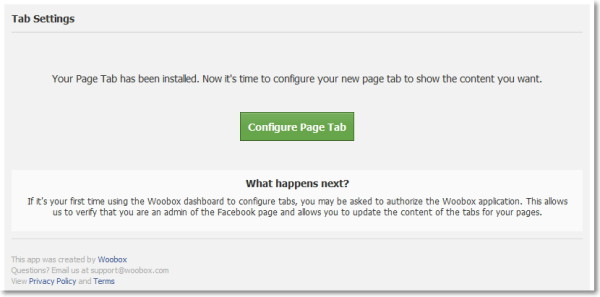 Click on the green button click to Configure your new Facebook Page Tab
Step 3: Paste Your Calendar Link in the Page Source
In the Woobox 'EDIT TAB CONTENT'  screen, select 'URL' as the Page Source: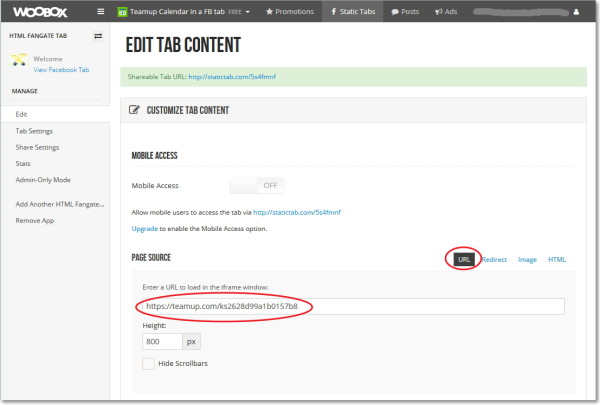 Paste the calendar link you copied in Step 1 into the Page Source as the URL to be loaded in the iframe window.  If your calendar link starts with http://, replace it with https://.
Click on 'Save Settings' and you're done.
Facebook Tabs – Keep in Mind
You can return to the tab settings at any time by navigating to your new tab and clicking on Settings. This is how that looks with a Woobox tab:
As mentioned above, make sure to use https:// (
Be sure to use a read-only or other restricted-access link for your calendar. Using your administrator link would mean your Facebook visitors could make changes to the data and the settings in your Teamup Calendar which is a risk and something we do not recommend.
Adjust the size of your calendar for optimal display.
Change the name of your tab under 'Tab Settings' in the Woobox settings screen
Sort the order of your tabs in your Facebook Page by clicking on 'Manage tabs' under the 'More' menu on your Facebook Page.
Test the calendar tab in various browsers, including Google Chrome, Firefox, and Internet Explorer.
Here is an alternative way to add a Facebook Page custom tab
The settings for Woobox and Facebook are subject to change. If you notice a discrepancy in these instructions, please do let us know
When viewing a Facebook Page using the Facebook app on a mobile phone, custom tabs created with freely available tab apps are not displayed. This is a Facebook restriction. Please feel free to explore the paid options that Facebook offers for this purpose.